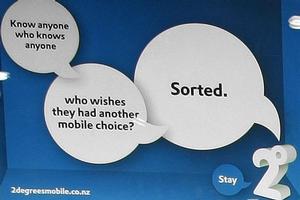 The wraps come off New Zealand's third mobile network this week with the launch of new entrant 2degrees.
2degrees have already signed up 50,000 people to its "try before you buy" sim card offer and from Wednesday the network will go live with handsets and sim cards available for purchase from supermarkets, petrol stations and electronics retailers.
New chief executive Eric Hertz - a replacement for Mike Reynolds who has stood down to return to the United States to work for an as yet unnamed company - will unveil details of the calling plans and handsets tomorrow in Dick Smith's new Queen St store.
Television ads fronted by funnyman Rhys Darby have promised an end to contracts, complicated call plans and selecting "best mates" - clear digs at competitors Vodafone and Telecom.
Mobile numbers for the new operator will have the 022 prefix with 85 of the most popular numbers being sold on Trade Me to benefit children's charity KidsCan.
Other numbers will be available on a first in, first served basis with a $5 bonus credit for anyone bringing their existing Telecom or Vodafone numbers to 2degrees.
The new network comes two months after the launch of Telecom's XT network.
Telecom is not revealing specific details of connections to XT ahead of the company's annual results out on August 21, but figures released by the company last month showed 100,000 customers had signed to XT.
A company spokesperson said average foot traffic into Telecom retail stores had increased by more than 50 per cent since launch.
Competitor Vodafone - which will be used by 2degrees customers when they move off the company's partially built network - has also recently upgraded its coverage to offer 3G access across its network.
Last Friday the New Zealand arm of the global phone giant demonstrated the latest version of 3G technology - 21.1 megabits per second HSPA plus - promising average broadband speeds of between six and seven megabits per second.
Vodafone said the alpha trial - New Zealand is the first country to roll out the Nokia Siemens technology - would be available to a selection of customers later in the year.