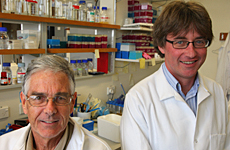 Auckland drug development company Pathway Therapeutics has received a A$10 million ($12.5 million) boost from Australian venture capitalists to develop its promising cancer-fighting therapy.
The investment by Brisbane-based CM Capital Investments and Melbourne-based GBS Venture Partners is among the largest of its kind for an as yet unproven therapy in the early stages of development.
The drug hails from research out of the University of Auckland's Maurice Wilkins Centre. It is based on work on inhibitors of PI3 kinase, an enzyme involved in controlling cell growth and migration.
Pathway is a spin-off from Auckland UniServices, the university's commercialisation arm.
Its general manager for technology development, Will Charles, who was instrumental in putting together the deal, said it was very rare to get venture capital money for a company that has not even had significant proof of its drug's efficacy in animal models.
"The earliness at which venture capitalists have been willing to invest is testament to the quality of the science we've got here in Auckland."
Charles said it was on a par with the US$8 million another company with beginnings at the university, Proacta, received in 2004 - although the Proacta drug was at a more advanced stage of development.
"This will be possibly one of the largest deals at this stage in the life cycle of drug or compound development."
The deal sees CM Capital and GBS Ventures - both life science venture capital specialists - take a majority stake in Pathway. The intellectual property remains in New Zealand.
"These are what one would call very smart investors who bring not just money but expertise in this field, and also a global contact of networks - the partners that one would need to take a drug to the advanced clinical stages and then to market."
UniServices has worked with GBS ventures before, including on Proacta, but the deal is the first collaboration with CM Capital.
Peter Lee, chief executive of UniServices, said the ongoing development of the drug has the potential to deliver significant benefits back to the economy via ongoing research contracts and equity return.
The money will enable the company to hire more scientists, develop animal models and start work on first-phase clinical trials in the US in about three years.
The drug is based on the work of research groups led by Professors Bill Denny and Peter Shepherd.
Shepherd said the company had the potential to provide new treatments.
"It is only by investing in such research that we are able to identify where to target drugs that could treat diseases like cancer."
By Errol Kiong

Email

Errol