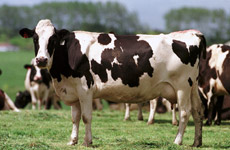 The historic free trade agreement signed yesterday with China has been warmly welcomed across the agricultural sector.
Kiwifruit exporter Zespri chairman Craig Greenlees said the deal marked the start of a new era of partnership.
"China's agreement to reduce the 20 per cent tariff on kiwifruit to zero over the course of the next nine years is a very significant achievement, one that will be worth many millions of dollars to the New Zealand kiwifruit industry over time," Greenlees said.
Fonterra chairman Henry van der Heyden said the dairy giant needed to study the detail before quantifying the benefits, but from what had been seen it would be good for the dairy industry.
"It will significantly improve access for New Zealand exporters, provide certainty in our trading environment going forward, and support Fonterra's strategy in China."
Butter, liquid milk and cheese tariffs would be phased out by 2017, and skim and whole milk powder tariffs by 2019, although both were subject to a quantity safeguard extending another five years above which duties could be applied.
"Our objectives will be to keep the tariffs and put that into our margins but you've actually got a customer on the other side that's probably got a different view."
Federated Farmers president Charlie Pedersen said it was a good deal for New Zealand, although he was a little disappointed about the time taken to phase out the tariffs.
"However, it is still an opportunity not to be missed to become a very special trading friend with the biggest market of consumers in the world." Pedersen did not think there was any part of the agriculture sector that would not welcome the deal.
"They need food and we produce it, so great opportunity."
Meat & Wool New Zealand chairman Mike Petersen said the free trade agreement with China would give farmers a competitive advantage.
"This is a good outcome for New Zealand sheep and beef farmers as it will immediately provide preferential access for New Zealand meat products in China compared to our competitors, plus it will let us build on the current trade," Petersen said.
Meat and edible offal exports to China totalled $70.4 million in 2007, with sheep and beef tariffs phased out by 2016.
Wool had been a particularly contentious issue during the negotiations, Petersen said.
The deal gave farmers a duty free 25,000 tonne quota, increasing by 5 per cent a year until 2017.
"This is significant because it gives New Zealand exporters secure duty free access to the Chinese market and this is a better position to be in."
Seafood Industry Council general manager of trade Alastair Macfarlane said it was a positive outcome, with seafood tariffs of more than 10 per cent removed by 2012.
"China has become an important provider of seafood processing services to New Zealand seafood companies," Macfarlane said. "Overall, it's definitely good news."
New Zealand Winegrowers chief executive Philip Gregan said he was delighted with the deal, under which tariffs of 14 per cent would be phased out by 2012.
China was currently a small market for New Zealand worth about $4 million, although a little under 300 million litres of wine was consumed there each year, he said.
"We had a trade mission up there a few weeks ago and they got a very positive reception so we are quite hopeful."
TARIFFS ON THE CHOPPING BLOCK
* 10 per cent on milk powder by 2019.
* 15 per cent on butter and cheese by 2017.
* 12 per cent on beef by 2016.
* 12-20 per cent on sheepmeat by 2016.
* Up to 20 per cent on kiwifruit by 2016.
* About 2-15 per cent on seafood by 2012.
* 14 per cent on wine by 2012.
* Duty free wool quota of 25,000 tonnes rising by 5 per cent a year through to 2017, with the initial quota set at 75 per cent of current exports.
By Owen Hembry

Email

Owen