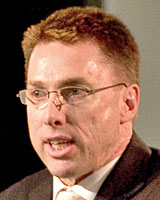 HAMILTON - Contact Energy plans to spend $1.5-$2 billion building one of the world's largest wind farms south of Port Waikato.
The 218-turbine project may generate up to 650 megawatts (MW) electricity - enough to power quarter of a million homes.
The world's largest wind farm, Horse Hollow in the Texas panhandle, generates 735MW, although plans for a 1000MW farm in Australia were recently announced.
Expected to be running by 2010, Hauauru ma raki compares in size to the largest New Zealand hydro station, Manapouri, which produces 810MW.
It will gel nicely with the Government's Energy Strategy announced last week aiming to have 90 per cent of New Zealand's power from renewable sources by 2025. The policy also effectively banned new baseload thermal power stations.
Contact today also announced plans to spend $140 million on a 100MW, gas-fired station at Stratford, Taranaki, that will be a fast-start, peaking plant.
It will be operational by 2009 and support increasing levels of wind generation during demand peaks and periods of low wind or hydro generation.
Contact chief executive David Baldwin said most landowners on the remote farmland had been consulted and were happy about turbines on their land. There were few lifestyle blocks in the area.
The original plan was even bigger, but 100 turbines had already been pulled due to environmental and visual impacts, Mr Baldwin said.
Contact was more likely to encounter opposition in the construction of transmission lines between the farm and cities, especially Auckland.
Building goodwill for this was especially important given the conflicts between Transpower and Waikato landowners over proposed pylons through Waikato, he said.
"Transmission and Waikato - those two words don't go well together. Transpower hasn't left a path of positivity around transmission in the area."
The site had been explored by Wind Farm Group for about four years and Contact has been working with the group for about nine months.
Mr Baldwin hoped the project would be "called in" by the Government to speed the resource consent process. Contact argues it was a renewable energy source that would provide power to thousands while avoiding 1.2 million tonnes a year of carbon dioxide emission.
"The vision of 90 per cent of New Zealand's electricity coming from renewables now hinges to a large extent on the ability to consent renewable projects without undue delay and connect them to the national transmission system.
"We think the key issue is streamlining the process so it doesn't end up in the repetitive cycle of appeals on spurious grounds," he said.
"We experienced that in the re-consenting of Wairakei where there were numerous appeals. It took seven years and $15 million. It's just a waste of time and money."
The Business Council for Sustainable Development said the project was an example of what most New Zealanders want for their energy future.
"More than six out of 10 of us worry we do not have long term energy security," council chief executive Peter Neilson said.
"Contact's plans to postpone major fossil fuel electricity generation projects in favour of more geothermal and now wind power in the Waikato will sit comfortably with most Kiwis.
"At the same time we know that we need stand-by capacity for when the wind doesn't blow, or the rains don't arrive."
Contact said it had been particularly pleased with the response from Maori landowners who had enthusiastically welcomed the project.
Wind Energy Association chief executive Fraser Clark said wind energy was a serious alternative to non-renewable generation in the Waikato-Auckland area, particularly given the security of supply issues in the region.
"Security of supply in the region, where electricity demand is the highest in the country, has been a significant concern for some time.
"This project is capable of generating more than 20 per cent of the electricity currently generated from gas."
About 450 jobs will be created during construction and more than $100m will be injected into the Waikato economy during construction.
Contact has put on ice its planned thermal plant Otahuhu C thermal plant but also has plans for two geothermal plants that will generate 260MV.
Mr Baldwin noted the Energy Strategy distinguished between baseload and flexible thermal plants designed to support a high renewables future.
"The new plant at Stratford will be very efficient and will run ahead of the existing New Plymouth gas-fired station."
Contact Energy shares fell 9 cents to $9.41 in a weak market after the news.
- NZPA