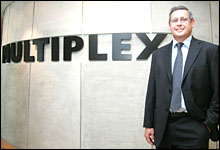 It was a proud moment when the Ashby family strode into the lobby of the lavish, spinnaker-shaped Burj Al Arab hotel in Dubai.
Dan Ashby had been with Fletcher Construction when work began on the US$1.5 billion ($2 billion) hotel on the shores of the Persian Gulf in the wealthy United Arab Emirates.
The 56-storey building, the world's tallest hotel at the time, is only slightly shorter than Auckland's Skytower. Although Fletchers withdrew from the three-way venture, Ashby stayed on to head the team building the structure for Dubai's Crown Prince, Sheikh Mohammed bin Rashed Al-Maktoum.
Hands locked behind his head in his level four office in the Chancery beneath Metropolis in Auckland, Ashby recalls working on the project with great pride.
"But it cost us £385 for tea and scones for four people," he said of afternoon tea with his family there a few years ago.
He also remembers how enriched his family's lives were by those two years living in the hot banking town of Dubai.
To illustrate this, he cites an example.
When his twin children shifted back to Auckland, they thought nothing of singing the Arabic version of Happy Birthday to their school principal, Ken Pemberton, at Murray's Bay Primary School.
But as Ashby recalls, the principal was somewhat taken aback.
Ashby grew up in Manurewa, the eldest of four children. A civil engineering degree from Auckland University propelled him into property development.
But he still found the time to set national rowing records in double and quadruple sculls while a Westend club member in Auckland. He also competed in triathalons, and cycling remains a passion, although Ashby has retired as a competitive sportsman.
He has other targets in his life these days. "I don't have much time to compete in sports but I still cycle. Now, my life is all about family and the business."
He is proud of Multiplex's fast growth here and its international clout and prides himself on his loyalty.
Sydney-based, ASX-listed Multiplex builds projects worth more than $3.3 billion annually. The New Zealand operation, which Ashby heads, employs 110 people and builds projects worth about $200 million annually.
Since establishing an Auckland office in 1997, Multiplex has worked on 29 projects - one in Tauranga, one in Christchurch, two in Wellington and the rest in Auckland.
Multiplex Group has A$5 billion ($5.3 billion) funds under management, A$18 billion property development and offices here, Australia, Britain and the Middle East.
Ashby formerly worked at Fletcher Construction in Auckland, Hawaii, then Guam and became project manager at Fletcher, leading the three-party team to build Dubai's Burj al Arab.
When Fletchers withdrew in 1996, Ashby remained project manager.
He returned to Auckland in 1998 to join Haydn and Rollet Construction, before being appointed construction manager for Multiplex Constructions (NZ) in 2000 and a director in 2003.
Ashby moved to London in January last year to oversee the 602 million shopping centre White City at Shepherds Bush, for Multiplex UK.
He returned to Multiplex in Auckland when former chief Shane Brealey left, vowing to abandon the Australians in favour of starting his own totally New Zealand building company.
Brealey's move raised some eyebrows, but also engendered patriotic support.
Multiplex was being watched closely last month, after a sniper threat against its tower crane operators in Australia. An extortionist threatened to kill Multiplex operators unless it paid A$50 million.
Multiplex, founded in Perth, is expanding its power base here fast and, although Ashby works only in construction, he is watching that growth into other property-related areas.
In September last year, Multiplex Group bought Onyz Property Group, formerly called Ronin and the manager of New Zealand's largest NZX-listed office landlord, the $700 million-plus AMP NZ Office Trust. In the same month, Multiplex floated its unlisted NZ Property Fund here, offering an investment in $273.9 million worth of supermarket and commercial real estate.
On March 8, Multiplex said it had entered an unconditional deal to buy the $216 million portfolio of the AmTrust Group, due to settle next month.
Multiplex has four distinct divisions to its group operations: construction, development, funds management and facilities management.
So far in New Zealand, Multiplex has extensive interests in the first three only: $200 million worth of annual construction; development stakes via its involvement in Britomart and the BNZ Headquarters planned for Queen St and funds management via AMP NZ Office Trust, the unlisted property fund and its AmTrust purchase.
JOBS NOW ON
* Building the $300 million Sylvia Park at Mt Wellington, demolishing storage sheds since October. Main construction work has begun.
* Part of the Bluewater consortium to redevelop Britomart on Auckland's waterfront.
* Putting up the 38-level apartment tower Residences@Harbour City on Fort St.
* Fitting out the 500-unit Zest apartments on Nelson St.
* Finishing Stratis at the Lighter Quay apartment project, with an internal waterway, in the Viaduct area.
* Finishing Victopia apartments opposite TVNZ at the Nelson/Victoria St intersection.
* Finishing last stage of Appleby Rd Middle School at Albany.
* Planning a new corporate headquarters for the Bank of New Zealand on Queen St.
* Construction of the building platform for the new Springhill Prison near Meremere in the Waikato.
* Later this month, Multiplex Group is due to settle on a deal to buy the $216 million AmTrust portfolio of New Zealand properties, including the Gen-i Tower on Wyndham St, Lumley House on City Rd and AIA Building in Takapuna.
CV
DANIEL RAYMOND ASHBY
Age: 47.
Education: Weymouth Primary School, Mt Albert Grammar, University of Auckland.
Married to: Noeline. Children are 12-year-old twins Scott and Nicole.
Lives: on the North Shore.
Position: Managing director, Multiplex Constructions (NZ)
By Anne Gibson @Anne Gibson

Email

Anne