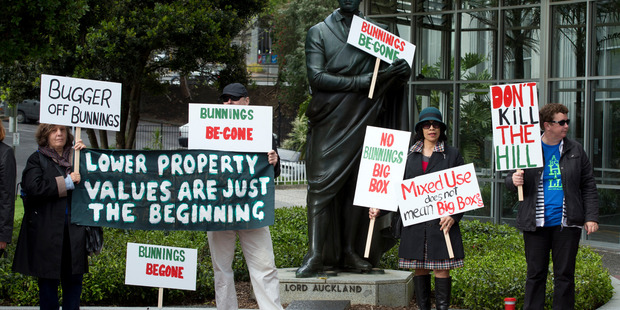 Angry Grey Lynn and Arch Hill residents picketed Auckland Council this morning in an anti-Bunnings rally.
About 30 people carried placards saying "Bugger Off Bunnings", "Arch Hill Says No to Bunnings", and "No to Bunnings Big Box".
Shale Chambers of the Waitemata Local Board and councillor Mike Lee addressed the crowd at the edge of Aotea Square, expressing support.
Lee said Auckland had a secretive planning process where about 98 per cent of resource consent applications were non-notified.
Lee asked whether planners were public servants.
Chambers shouted a greeting to the council's planning chief Dr Roger Blakeley as he left the council offices and glanced at the placard-wavers.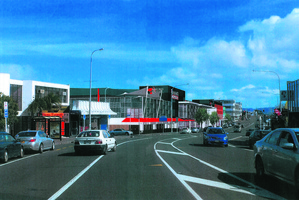 Lee said Bunnings' application had only been "begrudgingly notified" on a limited notification basis.
Chambers said the application was non-complying.
At the hearing, Alan Webb, acting for the residents, said they had not expected such an intense commercial activity on such a massive scale.
Roads would be used as Bunnings' own private service lane, he told the independent hearing commissioners.
Webb said residents had been regarded as "little more than irritants to get around rather than having their legitimate concerns taken seriously."
Great North Rd could become one of Auckland's great boulevards and the residents wanted a liveable city.
They don't see the Bunnings Warehouse as the correct way forward, Webb said.
Bunnings wants to build its store on the site of an empty clothing factory, on Great North Road, Grey Lynn: