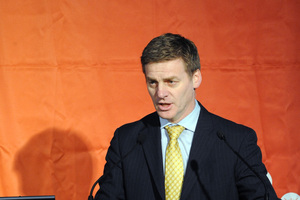 Bill English speaking at the New Zealand Council for Infrastructure Development Building Nations Symposium, Te Papa in 2009. Photo / File
The NZCID Building Nations Symposium - the premier event on the infrastructure calendar - gets under way in Auckland today.
New Zealand Council for Infrastructure Development boss Stephen Selwood says the two-day symposium allows the public and private sector to come together to "progress thinking and advance best practice" in national infrastructure development.The symposium has become the major annual forum where cabinet ministers with responsibility for infrastructure, transport and the Christchurch recovery come together with key public officials to set out the major policy initiatives that are underway, review progress, and spell out future strategic direction alongside private sector participants from across a wide range of infrastructure disciplines. "At its heart, Building Nations is about discussing and agreeing what must be done to make sure New Zealand's infrastructure is not just fit for purpose but helps lead sustained improvement in life quality in New Zealand," says Selwood.