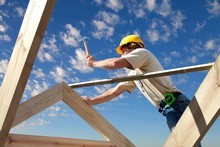 Australian building approvals figures appear to confirm the sector is not going to come galloping to the rescue of a struggling economy.
The number of residential approvals edged up 1 per cent in seasonally adjusted terms in July but, according to estimates released by the Australian Bureau of Statistics (ABS) yesterday, the declining trend which began more than a year ago is continuing.
In dollar terms, residential approvals, including alterations and additions, were down 1.2 per cent in July, while non-residential building approvals slumped 9.7 per cent.
Total approvals in value terms, residential and non-residential combined, were down by 4.4 per cent in July, by 13.5 per cent from a year earlier, and are now nine months into a downtrend, according to the ABS figures.
The July fall comes after an 18 per cent drop in the inflation-adjusted volume of approvals in the June quarter, reported with the ABS data yesterday.
The further overall weakness in July confirms the building sector is unlikely to contribute much to economic growth this year.
On Monday, the Housing Industry Association released data showing sales of new homes by big builders were at their lowest for over a decade.
- AAP