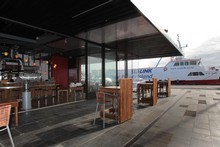 The fishermen will still unload their daily catches there, but North Wharf on Auckland's downtown waterfront has been transformed from the gritty days of old.
Seven million dollars has been spent on turning the only north-facing wharf in Auckland into what promises to be a bustling restaurant and cafe precinct.
Two new buildings have been built either side of the 1930s Auckland Harbour Board Building - also known as the Old Red Shed - to form a new space for cafes and restaurants, many of which will focus on seafood.
The new buildings were designed by architecture firm Fearon Hay, which used tactile exterior and interior surfaces that will be allowed to age naturally to match their historic neighbour.
High ceilings and industrial fixtures and fittings have also been used to match the new buildings with the area's semi-industrial history.
Nine out of 10 available positions have been leased, and diners will be able to look out floor-to-ceiling glass frontages to the harbour beyond.
The buildings have been set back from the wharf edge, which has created a wide promenade for pedestrians.
"North Wharf is the only north facing wharf on the waterfront which will soon be available for Aucklanders to enjoy," said John Dalzell, chief executive of Waterfront Auckland, the council organisation behind the Wynyard Quarter redevelopment.
"North Wharf's location right on Auckland's waterfront makes it absolutely unique, and the mix of operators is exceptional.
"It will provide a new experience for Aucklanders and visitors alike."
A further $21 million has been spent on turning the 440m Jellicoe St, home to the Auckland Seafood Market, into a tree-lined boulevard.
About 300 native trees have been planted, including titoki, taraire, karaka, pohutukawa, nikau and puriri.
New cobblestones have been laid, and tram tracks installed for the "Wynyard loop" - a 1.5km circuit between Jellicoe, Halsey, Gaunt and Daldy Sts.
Artist Michio Ihara's windtree sculpture has been placed at the west end of the street, complemented by two other artworks.
Markets will be held on the street in summer, and the area is expected to blossom when ASB Bank's headquarters are completed in 2013 on the corner or Halsey and Jellicoe Sts.
That will result in a further 1300 people working in Wynyard Quarter, and the council estimates that over the next 15 years this will increase to a total of 14,000, with a further 7000 people living in the area.
The first stage of the Wynyard Quarter redevelopment, including North Wharf and Jellicoe St, will be opened by Prime Minister John Key and Auckland Mayor Len Brown this Saturday.
Mr Dalzell said Aucklanders who visited the area on Saturday would be "astounded" at the progress made.
"Not only the changes, but the scale of the changes ... the way we've gone about doing what we've done down at Jellicoe St holds great potential for the future of city building."
WYNYARD QUARTER:
PART 3 THE SERIES
Monday: Wynyard Crossing
Tuesday: The Trams
Wednesday: Viaduct Events Centre
Today: Jellicoe St and North Wharf
Tomorrow: Silo Park and Gateway Plaza
Saturday: The big picture.
By Nicholas Jones

Email

Nicholas