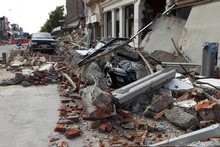 Perched on the ridge above our little valley 10 minutes from the Beehive, a huge crane juts into the sky like a phallic symbol in a particularly unsubtle Hollywood spoof.
The crane is being deployed in the redevelopment of Bowen Hospital, part of the Wakefield Health group. Phase one began in late 2009 and finished last December; phase two is due to be finished within a year.
To say I'm no engineer would be the understatement of this or any other year, but if a $30-odd million redevelopment of a private hospital takes the best part of two and a half years, how long will it be before Christchurch is restored to a semblance of normality? And how long will the full $30-billion-and-counting reconstruction take?
These are unsettling questions for Christchurch residents.
I doubt they'd derive much comfort from the axiom attributed to Rahm Emanuel, President Obama's former Chief of Staff and mayor-elect of Chicago, that one should never let a crisis go to waste.
Emanuel's reasoning was that crises provide opportunities to be bold on a scale that would be unthinkable in the normal course of events, when we deal in compromises, half-measures and short-termism because there's no imperative to do otherwise.
Rebuilding Christchurch is an enormous challenge, but it has to be done.
The fact that we have no choice provides an opportunity to create something special, far removed from the ad hoc and often unsightly development that characterises our urban landscapes.
Napier's claims to be an art deco jewel may be slightly inflated, but the rebuilding after the 1931 earthquake gave the city a character and identity that get stronger and more valuable with the passing of time.
This tragedy provides an opportunity to do something similar but on a grander scale, to create a new city that reflects this nation's talent and spirit and which captures the imagination of the world.
Old Christchurch and those who fell with it deserve such a memorial.
As with wars, we measure the severity and significance of natural disasters by the death toll. Once the Christchurch earthquake ceases to make headlines elsewhere in the world - if it hasn't already - the death toll will be all that remains, the last word.
Here, however, the official death toll will merely be the end of the beginning.
The quake will reverberate in the form of unlivable homes, lost livelihoods and shattered normality, in the displacement and disruption that has reduced many of the city's residents to subsistence level.
Something similar happens with wars. We watch the shock and awe pyrotechnics, the laser-guided missile flashing across the city skyline to take out the apartment where the dictator's crony is dallying with his mistress, we see the burned-out tanks and toppling statues. Then victory is declared, normal programming is resumed, and we barely notice what happens next.
Israel's 34-day incursion into Lebanon in 2006, sparked by a Hizbollah ambush in which three Israeli soldiers were killed and two kidnapped, resulted in a million Lebanese civilians being displaced.
America's invasion of Iraq caused two million Iraqis to seek refuge in neighbouring countries; another two million were displaced inside Iraq.
How many Iraqis are still in refugee camp exile? How many homes and neighbourhoods destroyed in the high-tech blitz have never been rebuilt?
How many of these four million people will never again have a reassuring routine, a sense of belonging, a place to call home?
Whatever the rights and wrongs of their actions, Americans seem unaware of or unconcerned by the ongoing consequences for the ordinary people of Iraq and Afghanistan for whose benefit - supposedly - the US rolled out its war machine.
Thus it's hard to take seriously the outrage emanating from the US over Muammar Gaddafi's cornered rat assaults on his own people. As Paul Craig Roberts, an old Reagan hand turned gadfly, asked: "We're all concerned about humanitarian concerns in Libya after we've wrecked two countries ourselves?"
And it's alarming that even as America continues to count the cost and heed the lessons of its bellicosity, the civil conflict in Libya has most of the hopefuls for the 2012 Republican presidential nomination urging yet another military intervention to - stop me if you've heard this before - topple a tyrant and liberate an oppressed population.
Here's Newt Gingrich: "The US should proceed unilaterally. The US doesn't need anybody's permission. We don't need to have Nato who probably won't bring much to the fight.
"We don't need to have the UN."
It's hard to know what's scarier: that Gingrich and co appear to have learned nothing from the events of the past decade, or that they believe this trigger-happy posturing will go down well with the party faithful.
By Paul Thomas

Email

Paul