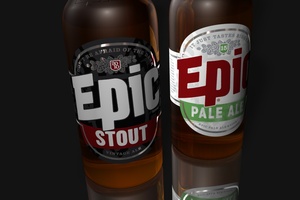 The initial Swedish order for Epic's beers was for 100,000 bottles, but the company is hoping for greater things to come.
Hot on the heels of Steinlager's debut in Swedish bars and bottle shops, Auckland craft brewer Epic has secured a deal that will see its beer also sold in the Scandinavian nation.
Alcohol sales in Sweden are tightly regulated by the state, with only government-run retail outlets able to stock products containing more than 3.5 per cent alcohol.
Companies must submit tenders to gain access to those stores.
Epic founder Luke Nicholas said his firm's beer was put forward for a tender on Australian and New Zealand pale ales and indian pale ales under 7 per cent alcohol.
"Basically what happens is all the importers submit different brands [for tender] and then they pick one," Nicholas said.
"And the winner was Epic Armageddon."
Through winning the tender he said Epic had received a permanent listing in Swedish bottle stores.
Nicholas said the initial order was for 100,000 bottles, but it was difficult to say how much beer Epic might be able to sell each year in Sweden.
"It sounds pretty lucrative."
After a couple of years of tough negotiations, local brewing giant Lion last month finalised a distribution deal that will see its Steinlager Pure brand sold in 382 retail stores, bars and restaurants in Sweden.
Rory Glass, managing director of the brewer's New Zealand operations, said Sweden had been a difficult country to break into, but it was expected to become one of the biggest export markets for Steinlager.
Nicholas said it was good that New Zealand would be represented in the Swedish market by something other than a "traditional, boring lager".
He said Epic was enjoying annual sales growth of around 200 per cent a year. Sweden's beer market was worth US$2.8 billion in 2010.