Don Kavanagh has done the hard work to bring you the best local beer festivals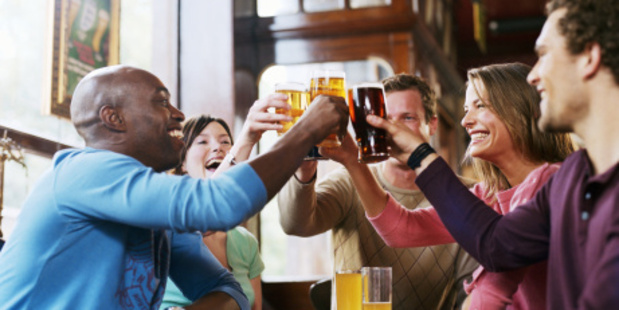 As summer fades into autumn and the season of mist and mellow fruitfulness, it's time for hay to be saved, harvests to be gathered and, best of all, have festivals to attend.
Festivals are a wonderful way to spend a day, wandering among the stalls and nibbling at the sort of food you only seem to get at festivals or farmers' markets. But what makes them even better is when you can wander with a refreshing beer in your hand. It's a good time of year to be a beer-loving festival lover.
Beer festivals have come a long way in the past decade. It used to be that you could set up a few kegs under a few umbrellas in a field and call it a beer festival. What those festivals mainly represented was an opportunity to sell beer to enthusiastically thirsty punters, who simply treated the day as an outdoor grog session.
It's not like that anymore; beer festivals these days are better both in the quality of the beer and the quality of the overall experience, as organisers make the effort to put on a family-friendly day out.
Marchfest is a perfect example of this. It's laid back, relaxed and full of people who take their beer, and their enjoyment of it, seriously. But if you can't make it to Nelson, never fear - there are others you can get to instead to celebrate the harvest and see how good this year's hops are.
Beer Appreciation Day, Duart House, Havelock North, March 2
Beer Appreciation Day (BAD) is revving up for its third incarnation, offering those in Hawke's Bay the chance to catch up with both some new beers and the people behind them.
With a confirmed guest list including Croucher, Epic, Townshend and local hero, the brilliant Hawke's Bay Independent Brewery, this is one not to be missed, especially as representatives from the breweries will be on hand to answer questions and there will also be guided tastings of the beers.
There are more breweries to be confirmed, but the must-try beers on offer this year are the Ballast Point brews from America. These beers are big, bold, but surprisingly subtle celebrations of the hop.
Mike's Medieval Beerfest, Urenui, Taranaki, March 9
Mike's has been a fixture on the craft brewing scene since before that scene was official.
Drivers heading north out of New Plymouth in years gone by would be familiar with a small sign on the roadside advertising the White Cliffs Brewery as the home of Mike's Mild Ale.
It's now in the hands of the Trigg family, who have made the beer organic (mostly) and expanded the range. The ale is still as beautiful as ever, but it now has a much bigger family, with the recent release of a series of non-organic IPAs. The Mike's beers are all enjoyable, sessionable beers, but some of them, including the Whisky Porter and Mike's IPA are getting up there strength-wise, so be careful to read the label.
The day is also medieval-themed, so expect plenty of buxom wenches, doughty squires and the occasional beggar to be on hand to help you get in the spirit of the day.
Belgium Beer and Mussel Festival, Riccarton House & Bush, Christchurch, March 9
Belgium's contribution to beer is already well-documented, but sometimes it's nice to remind yourself of the sheer scope of beer styles that country produces.
From crisp lagers, through lively fruit beers and up to dark, brooding Trappist beers, Belgium really does beer well and southern readers (and visitors) can see how well at Riccarton with this festival.
As well as the familiar brands like Stella Artois, Leffe and Hoegaarden there will be a selection of interesting bottled beers to tantalise the taste buds. And you can use the beer to wash down bucketloads of mussels, in celebration of Belgium's unique take on beer and food matching.
The New Zealand Beer Festival, The Cloud, Auckland, March 23
The New Zealand Beer Festival has been promoting good beer since 2006 and its move to The Cloud added a new dimension to proceedings. It's a nice mix of craft beers and some more mainstream offerings from both here and overseas and attracts a great crowd.
This year there are more than 30 breweries involved, bringing the number of beers on offer up to more than 150, so don't try to sample them all. Sort out your plan of attack and it will be a much easier ride, especially as the queues were trailing out the door at most stands last year.
With everything from global brands such as Stella Artois to smaller outfits like Ben Middlemiss Brewing, this covers the entire beer spectrum. Check out some of the aristocrats of the craft brewing world like Sprig and Fern, Three Boys, Renaissance and Tuatara, as well as ones you might not have tried before, like Valkyrie, a brewery very much in touch with its feminine side, or Bath Brewing from England.
Greater Wellington Brewday, Martinborough, April 6
It's probably stretching things to refer to South Wairarapa as part of Greater Wellington, but Brewday is another great excuse to visit Martinborough.
It's Wellington-focused, so the breweries involved include serious craft operations like Garage Project, the excellent Yeastie Boys and ParrotDog alongside better known labels like Tuatara.
Martinborough is a great spot for a weekend getaway and Brewday is a chance to enjoy some seriously good beer in beautiful surroundings without having to cope with the drunken hordes that afflict the Toast Martinborough wine festival.
Beervana, Westpac Stadium, Wellington, August 9-10
You can't mention beer festivals and not make a reference to Beervana, the greatest annual celebration of beer in the country.
It is effectively the public side of the national brewing awards, so you can be sure that whatever beers you try they will be excellent, whether it's a supercharged pale ale from some bloke's back shed or a crisp lager from one of the big breweries.
It's a fantastic event for all levels of beer lover, from those who simply enjoy a beer now and then to the more obsessive beerophile who wants to know what sort of hop and how much is in each bottle. Since pretty much all the breweries are there, and all the brewers, it's a great way to meet the people behind the labels. Get you tickets early.