Taking on Wildcats a big ask for champs, but that's not only obstacle to progression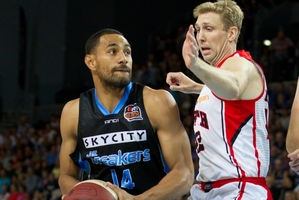 The Breakers will be seriously tested against the top-of-the-table team tonight, but they face another obstacle in addition to the Perth Wildcats.
Currently one of four teams with six wins in the chase for the final playoff berth, the defending champions can pull away from the pack if they find some consistency for the rest of the campaign.
But, the way this season has unfolded, that's a big if.
The Breakers are coming off their best victory of a stuttering year, last weekend's six-point triumph in Melbourne.
Unfortunately for the champs, the week after a win is when they have been at their most vulnerable. It's the main reason they find themselves scrapping for a playoff spot instead of sitting pretty near the top of the standings, with consecutive victories proving more elusive than they were under former coach Andrej Lemanis.
While the Breakers were routinely capable of running off winning streaks during their championship campaigns, this season has seen a step forward regularly followed by two steps back.
Four wins have been immediately followed by defeats, with an average losing margin of 13 points going some way to dispelling the myth of momentum being carried from one week to the next. And on the one occasion when back-to-back wins were achieved - in November against Townsville and Melbourne - the Breakers proceeded to drop the next three straight.
That kind of inconsistency must be eradicated if they wish to remain in the hunt for an unprecedented fourth straight title.
A top-heavy league means a 6-10 start doesn't preclude a playoff place and, once in the finals, anything can happen in a short series.
But the Breakers won't get there if they continue to endure setbacks after enjoying successes. In some ways, seeking to amend that troubling pattern is a prospect with a similar level of difficulty to tackling the 14-3 Perth Wildcats.
That's not to say that the Breakers will get an easy ride in Western Australia. Perth have been in imperious form all season and, although they suffered consecutive losses, remain the favourites to wrest away the Breakers' crown.
Mika Vukona will have to play an integral role.
Last week's win over Melbourne was just the latest instalment in what might be Vukona's best campaign, with 17 points and 15 boards adding to his already-stuffed stats.
He rates second in the competition in rebounds with 8.5 a game, while he is also in the top 30 in scoring (11.3ppg) and assists (2.9apg).