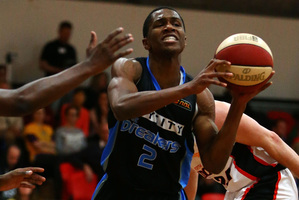 Like many a young man before him, new Breakers import Kerron Johnson is still finding his feet after moving away from home to begin his professional life.
The 22-year-old has been fielding regular phone calls inquiring about his progress but, rather than his parents on the other end of the line, it's been the Breakers' owners keeping tabs on their new recruit.
"Paul and Liz [Blackwell] call almost every other day just to make sure I'm okay," Johnson said of his new support network. "But it's not just them. I talk to coach [Dean Vickerman] on a daily basis and it's a complete group effort.
"Everybody's in the same area, so whenever you need something you just call them, no matter what time of day it is, and they'll answer. Me being away from home and this being my first professional job, I think I got extremely lucky and blessed to be in an organisation like this."
As invaluable as the guidance has been to the American's adjustment period, he strikes one as being more than capable of looking after himself. Johnson could have been in for a severe case of culture shock after swapping Belmont University in Tennessee for the bottom of the world, but he has seemed unflappable.
And the Breakers are confident his attitude will translate to on-court success in his role running the offence and leading the defence from the front.
"I spoke with his college coach [Rick Byrd] in the interview process," Vickerman said. "The first thing he said was, 'In my 25 years of coaching at this university, [Johnson's] one of the three most competitive guys I've ever met.'
"We've got a guy who's going to help us win and he's been outstanding so far. He's going to have his adjustments but we've already seen him adjust pretty well to the league."
Johnson's quick learning has been unable to prevent the Breakers from starting the pre-season winless, but he has seen steady improvements in his side and he expects those to continue in the three-game set against Chinese side Dongguan, which began in New Plymouth last night.
"The first game was a little different but, as they've gone on, I think we've all gotten better," he said. "It's about progress for us - every two weeks you want to be better than you were before."
And, as the fortnights tick by, Johnson is sure to grow even more comfortable with his new life.
"There are times when you do get homesick, but then you just remember what you're over here for. Not a lot of people get this opportunity, not a lot of kids get this dream."
- APNZ