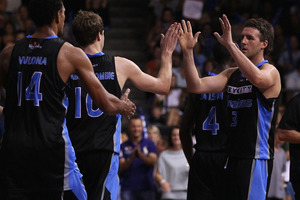 If you're staying up to watch the Breakers attempt to make history tonight, don't expect to be kept awake by an abundance of points.
The Breakers are just hours away from potentially becoming only the second club in Australian NBL history to capture a hattrick of crowns, requiring a win over the Wildcats at Perth Arena tonight (tipoff 11.40pm NZT).
Despite the high winning margins in five games between these two titans this season, tonight's clash shapes as a tight, defensive tussle in which scoring will take a back seat.
In their 14-game winning streak at Perth Arena, the Wildcats have held opposition sides to fewer than 60 points a game. But, the way they shot the ball in the Breakers' game one win in Auckland last weekend, the visitors will be confident of constricting the Perth offence as well.
"Every game between the Breakers and Perth is the same," said Mika Vukona, a leader of the Breakers defence. "We're both physical, defensive-minded teams.
It's going to be exciting and it's going to be a big battle."
Battles like these are ones on which Vukona thrives, and he was in no doubt as to what it would take to grab a victory that would prevent the grand final series for heading back to Vector Arena for a deciding third game on Thursday.
"I think it's all the effort areas - all the rebounding, all the hustling, all those little one-percenters that everybody talks about. It's all clichéd but against a team like Perth, all that counts."
Those one-percenters could prove especially important if Perth's shooting woes from game one carry over and if the rims at their home venue continue to be unkind to offence.
The Wildcats made a paltry six of 34 attempts from beyond the arc in their 12-point defeat in game one, but coach Rob Beveridge was backing his side to bounce back tonight.
"It was just a case of them probably losing their confidence," he said. "They missed a couple and then started to hope they went in rather than ensuring that.
"[The Breakers] got round one and right now they're on our home turf. So we're not too concerned about what happened previously."
Perth's home turf has been a graveyard to visiting teams' offence this season but, as Andrej Lemanis pointed out, the hosts weren't exactly pouring in the points in their home gym.
"Generally it's just not a venue where teams come in and tend to shoot it very well," he said. "With Vector Arena, the first couple of games there the shooting percentages weren't so good but then it's grown the more games we've played there.
"Whereas it hasn't seemed to happen at Perth Arena - the shooting percentages seem to play pretty low.
"Is it the rims? Is it something to do with the dynamics of the court? Who can explain those things?''
While that remains a mystery shooting guard Daryl Corletto, who lead all scorers in game on with 19 points, was certain of one thing: preventing Perth from making a fast start was imperative.
"If they hit their first couple of shots they'll get up and about. I think for us it's just about maintaining the pressure.
"If we're with them at halftime or halfway through the third quarter, I've got the feeling we can overrun them late in the game. But we've got to take their first few punches.''
- APNZ