There's only one number this retiring Breaker really cares about in his career.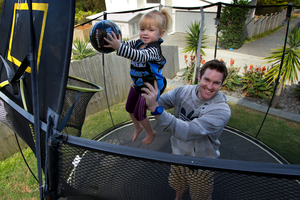 Dillon Boucher always knew he was fast.
He may not have been able to jump the highest and he may not have had the sweetest jump shot, but he thought he was as quick as anyone.
It is far easier to tell what Boucher is incapable of doing on a basketball court than what he does bring to the game, but scampering around the hardwood was one of the few aspects of the sport at which his ability was evident.
He has scrambled for innumerable loose balls to earn extra possessions for his team; he has picked the pocket of countless opposition players after a guard threw an errant pass.
There is nothing glamorous about hustle plays. The attention of Breakers fans cannot help but be attracted when Tom Abercrombie soars through the sky to slam home a lob pass, or when Cedric Jackson unlocks a seemingly impenetrable defence to drive to the hoop.
By comparison, Boucher can sometimes seem anonymous; his contribution forgettable if you looked at the box scores only.
But Boucher didn't need numbers to tell him he was fast. He always knew that ... until he was tested.
"It wasn't until we started testing," Boucher says on the eve of what could be the last game of his career, "that I realised I was actually a lot slower than everyone else."
But if speed was another area in which Boucher was behind his peers, how did he win those loose balls? How did accrue so many steals? How did he become a serial winner?
The young Dillon Boucher was a different beast. After all, no hopeful hoopster makes a living from the sport by setting screens.
Boucher was the typical star on his school teams, filling up a stat sheet as well as any basketball prodigy. One thing, though, was analogous with the player New Zealand basketball fans came to love: his teams were winners.
He took titles as an adolescent in Taranaki. He clinched championships at Papatoetoe High School even after arriving to discover no hoops, let alone an organised team. He won the under-23 national championships with Auckland five years running.
"What attracted me to basketball was because I enjoyed it, but then the winning was what really started making me want to be good at the sport. I got hooked on the competitiveness of it and that's what's kept driving me to this day - winning. The whole strategy behind what you need to do to be successful as a team."
That strategy usually involves a few guys putting the ball in the basket, a couple more crashing the boards, and one or two who can take control of games in the clutch. What it rarely requires is an undersized power forward whose stat-line from an average game has more zeroes than the cheques of his most well-paid teammates. But that's exactly what Boucher became when former Tall Blacks coach Tab Baldwin, then guiding Auckland, opened the youngster's eyes to a hidden side of the sport.
"I had no idea I was even that good at defence until [Baldwin] identified that," Boucher says. "He tried to turn me into a person that could come on and lock somebody down on defence."
And with defence going unnoticed in a box score, Boucher's newfound speciality resulted in few of the gaudy numbers that catch the eye of the fan.
There's only one number Boucher cares about, and it's the only number that really matters. Twelve championships, across New Zealand and Australia's national leagues. And it could soon become lucky 13.
"There's a beautiful quote from Bill Russell," says Andrej Lemanis, "one of the winningest players in the NBA, where he said that a man should not be measured by his statistics, he should be measured by his ability to connect with his teammates and to win games.
"I don't think there is a better summary than that for Dillon."
But Russell won "only" 11 rings with the Boston Celtics. Boucher's going to retire having blown by that number. And few will understand why.
With only five men on the court, there is no room for passengers. Every player will be involved in almost every possession, meaning Boucher is able to exert his influence without pouring in points or racking up rebounds.
Most of what he does just isn't counted.
"I could have no stats at all after the game but know I've set 10 great screens for 10 open shots," Boucher says. "Or I've forced a guy into panicking and throwing the ball for someone else to get a steal. Or I've made a guy's life uncomfortable and made him miss a shot.
"For me, it's not stat-related; it's more based on how I feel after a game."
There are some statistics, however, which illustrate Boucher's influence - you just have to dig a little deeper.
For Andrew Price, digging deeper is a passion. Price runs the website lobpasstoabercrombie.com - named after Breakers' play-by-play man Andrew Mulligan's favourite catchcry - and this season he provided the Breakers with advanced statistical analysis.
General manager Richard Clarke says the Breakers like to use plus-minus - which measures the team performance in points differential when a particular player is on the court - to appreciate Boucher's contribution and, while his number itself is not extraordinary, his teammates have much better ratings when they play with Boucher.
But all the metrics in the world will go only some way to appreciating Boucher. His player efficiency rating - an all-in-one stat designed to detail a player's overall impact - is the worst on the Breakers, behind even the development players.
"He's never going to show up as being an amazing player in any stats," Price says. "Because he's not an amazing player, really. He's a really good role player. So you're not going to find anything that's going to say he's the best in the league."
That's because you can't measure anticipation, something that counters that lack of speed. You can't quantify the number of rattled opponents. And you can't calculate basketball smarts.
"He is a very smart guy," says Clarke. "He picks things up very quickly and I think his basketball success has come about because of that mindset. He wants to succeed in everything he does."
There are a lot of basketball players, though, who are driven to succeed. Often it's at the detriment of others. Not many of those players will have cut down the nets on 12 occasions.
There's no ignoring the titles but Boucher is careful to temper any suggestion he was the driving force on the championship-winning teams.
But it would be an incredible coincidence if Boucher weren't one of the imperative ingredients. And it would be one hell of a quirk for Boucher to have been on the court for the two longest winning streaks in ANBL history - the Breakers' 16-game run this year and the Brisbane Bullets' 21-game stretch in 2006-07 - without being a defining factor.
"The two years we had in Brisbane, he was instrumental to our success," says CJ Bruton, who was enticed across the Tasman to join the Breakers only after convincing the club to also recruit Boucher. "If you go back from our Brisbane days to now, the number of games we've won is probably a lot more than a lot of guys have in their career."
For the myriad ways Boucher helps his teams win, perhaps winning itself is the most important thing he brings.
That winning edge will not be lost, with Boucher an assistant coach of the Tall Blacks, or the Breakers, for whom Boucher will next season be the corporate sales manager.
"They'll have trouble trying to keep me away from the court as I try to give my advice to Andrej or to the players."
Lemanis, by the sounds of things, is accustomed to having Boucher chirping in his ear.
"He's always coming to me and saying, 'this is how they're playing, we need that, perhaps we should try this'," Lemanis says. "He reads the game so well ... because he's a smart basketball player. He's completely selfless."
That selflessness, according to Boucher, elucidates exactly why his teams have always been winners.
"I'm pretty vocal when guys are selfish on a team - I make it known that it's unacceptable just to worry about yourself.
"I try to develop a team environment in which everybody plays for one other. It doesn't matter who the hero is at the end of the day, everyone will remember those who have won championships."
And whether that number ends up being 12 or 13, everyone will remember Dillon Boucher.
Boucher's 2013 statistics
Pts per game: 2.8 (league leader Ben Madgen has 18.2)
Rebounds per game: 3.2 (league leader Daniel Johnson 8.1)
Assists per game: 2.4 (league leader Cedric Jackson 6.9)
Free throw per cent: 61.9 (teammate Daryl Corletto 94.3 per cent)
- APNZ