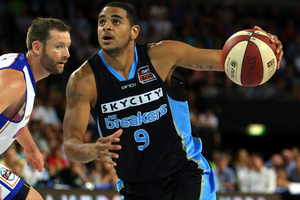 Forget about 13 wins in a row - the Breakers might need to extend their streak to a sweet 16 to seal a third straight minor premiership.
Last night's thrashing of the Adelaide 36ers prolonged the defending champions' club-record unbeaten run but, despite all the victories, the Breakers have been unable to shake those pesky Perth Wildcats.
Barring a monumental upset in this bottom-heavy league, the Breakers will renew hostilities against Perth in the Australian NBL grand final series in April.
What remains uncertain, though, is which club will earn home court advantage for the three-game decider, something that could prove pivotal in separating the great rivals.
Last year's grand final series between the Breakers and Perth saw all three games won by the home team and, with both sides having dropped only one game at home all season, it would be no surprise if history repeated.
The Breakers currently hold a two-game lead with four to play in the regular season but, having beaten the Breakers twice in this campaign, Perth possess the tie-break and the two sides are still to meet for a final-game showdown in the wild west
Which all means that providing Perth holds serve, the Breakers will need to win their next three to avoid facing a must-win encounter at Perth Arena later this month.
"It's obviously a pretty key stretch now coming up - these last four games - and every game's important," Tom Abercrombie said. "We need to win every game to keep that place we have at the top of the table."
That starts with welcoming the Cairns Taipans to the North Shore next Thursday. Cairns (8-14) are scrapping for their playoff lives so will not be underestimated, but the Breakers should take care of business against a team they have beaten three times this season by a combined 45 points.
A short turnaround and a trip to Melbourne will prove challenging, with Melbourne (10-12) currently occupying third spot on the unbalanced ladder. Playing just three days after the clash with Cairns will test the Breakers' ability to bounce back, something they haven't had to deal with since January.
The teams will then cross the Tasman for a rematch at the NSEC four days later, before the Breakers have a week to prepare for the season-ending encounter in Perth.
"I actually really like our run home now," coach Andrej Lemanis said. "What a great way to go into the playoffs.
"I think it's great that we've still got to fight our way in and fight for top spot. We've got to play well and we've got to come out and carry that intensity into the playoffs.
"The last couple of years, that first playoff game we perhaps haven't been as sharp as we've needed to be. Other teams had been playing with intensity to get in and we'd sort of cruised a little bit."
That the Breakers have in the past been able to cruise is a reflection of both their dominance and a lack of serious competition throughout the rest of the league. This season both of those factors have been enhanced to the point that some fans have jokingly suggested the ANBL does away with the semifinals and makes Perth and the Breakers battle it out in a best-of-seven series.
After all, the rivalry is the only remaining intrigue. Semifinal opponents will be vanquished - in all probability swept - to give the competition a fitting finale.
And which team emerges on top after that scrap could very well be determined in the next two weeks.
- APNZ