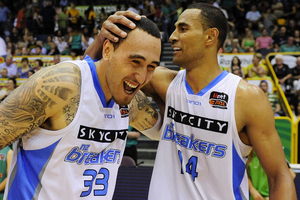 The Breakers might be zoning in on a third-straight ANBL title but the club are well advanced in their planning for next season with only three players to be added to their roster.
The two-time defending champions are on a club record 10-game winning run and travel to take on the Sydney Kings tomorrow night. They are playing with such confidence - they dismantled rivals Perth 98-81 last week - that many are wondering if they will lose another game this season.
They have an extremely settled and deep squad and at least seven of the 10-strong roster will return next season.
The Breakers are hopeful imports Cedric Jackson and Will Hudson will return but Dillon Boucher, 37, will retire after nine seasons with the club.
His place is likely to be taken by development player Reuben Te Rangi, who has impressed in training and the limited minutes he has got this season.
Hudson is a strong possibility to return but Jackson is targeting a return to the NBA and will head back to the US at the conclusion of the season for try-outs. He said earlier this week "more than five" NBA teams had been in contact with his agent and were monitoring his form.
"In an ideal world, you would want both [imports] back because they have been fantastic," Breakers general manager Richard Clarke said. "If Cedric doesn't make it [in the NBA], we would want him. There's no doubt Europe pays a lot more but the advantage here is the length of our season allows you finish a season in somewhere like Puerto Rico or Europe and top up your salary. With Ced, it's not all about money, it's also environment and he feels very much at home here.
"Will's doing really well and been a great part of the club. Neither have done anything other than put their hand up to say, 'have me back'."
Putting a roster together is a balancing act. Clubs have to work within a A$1 million salary cap and points system - all players are rated out of 10 and all 10 players must fit under 70 points.
Te Rangi's likely inclusion will provide the Breakers with some wriggle room, especially with others like Alex Pledger likely to jump up the ratings. Te Rangi would be a one-point player.
Tom Abercrombie is weighing up his options for the off-season. Like Jackson, he has ambitions to play in the NBA - and has options built into his Breakers contract to leave if he secures a deal - but is mindful of not trying out until he thinks he's ready. The ankle he injured at the end of last season has bothered him for most of the present campaign and he might hit the gym rather than head to the US. He will also forgo playing in the New Zealand NBL but will play for the Tall Blacks.
"Tom is conscious first impressions are important and you need to be ready when you go and make that impression," Clarke said. "I'm sure he will decide if he's ready and whether that's this year or next. He still has an international programme to put him on the map as well."
Abercrombie's improved form has helped the Breakers extend their winning streak and backup point guard Corey Webster said they were intent on continuing that.
"We have a lot of confidence," Webster said, "and we feel like we aren't going to lose any games for the rest of the season. We can't look too far ahead but if we do the right things and look after our bodies I don't think anyone can beat us."
Returning players: Tom Abercrombie, CJ Bruton, Daryl Corletto, Leon Henry, Alex Pledger, Mika Vukona, Corey Webster.
Leaving: Dillon Boucher (retiring)
Up in the air: Cedric Jackson, Will Hudson
- APNZ