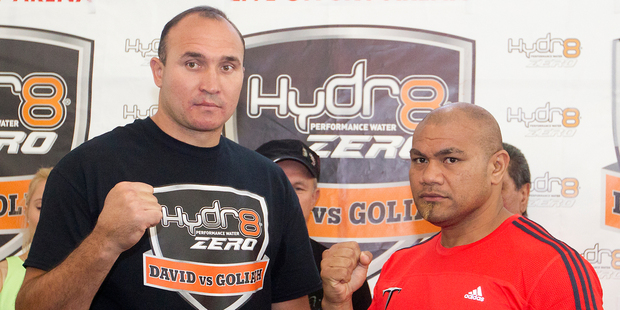 The TAB is offering almost even-odds on David Tua and Alexander Ustinov, going into New Zealand's biggest boxing match-up of the year in Hamilton tonight.
The bout is expected to begin at about 10.30pm at Claudelands Arena, and punters seem torn between the punching power of the trimmed-down Tua, and the giant Ustinov's reach.
Tua had been favoured to win the clash on the New Zealand TAB earlier in the week, but by today (Saturday) Ustinov had become the favourite paying $1.80 to the Kiwi's $1.95.
Tua by KO was marginally the most popular result on the TAB at $2.20, compared to Ustinov winning on a points decision ($2.50).
Tua has stayed out of the public eye today, knocking back bacon and eggs for breakfast then carb-loading on a big spaghetti bolognaise for lunch.
Ustinov was seen pacing around his Hamilton hotel at 8 o'clock this morning, said promoter Dean Lonergan, and looked "nervous".
"Any time anyone shakes his hand, he's sweating profusely," Lonergan added.
"And David's told me directly, every time he looks in Ustinov's eyes, he can see the fear."