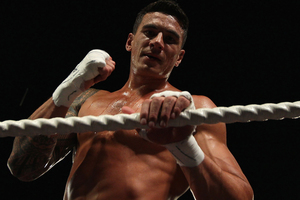 Sonny Bill Williams looked sharp and focused at the weigh-in ahead of tomorrow night's fight against Francois Botha at the Brisbane Entertainment Centre.
Williams, 27, tipped the scales at 107kg, with 44-year-old South African Botha weighing in at 115.25kg.
The pair are headlining tomorrow night's card, with Quade Cooper fighting on the undercard in his first professional outing. Cooper, fighting at cruiserweight against Barry Dunnett, weighed in at 87.1kg to Dunnett's 88.6kg.
Botha got most of the attention from the big media contingent at the venue, however, with a startling early entrance. He turned up 10 minutes before Williams and wore a red bandana and dark sunglasses along with T-shirt and trackpants.
"No more funeral business,'' Botha said as he walked in with his entourage.
"I don't want any more of that funeral business like yesterday.''
He was presumably referring to Wednesday's press conference. Keen to keep the mood upbeat, he quickly added: "My mama said to knock him out, what must I do?''
Williams was keen to keep it low-key, saying it was the showman in Botha coming out.
However, he added: "I respect him, but I won't be asking for his autograph in the ring.''
Up for grabs is the WBA International Heavyweight title but the possibilities are greater for Williams. As the former All Black said, a victory would open new doors for him. Defeat, he said, would "probably" mean the end of the fight game for him.
He said Botha would be a hard man to put down and is likely to use his superior speed and fitness to wear out his opponent.
While Cooper is only on the undercard, there will plenty watching his progress with interest, both in New Zealand and Australia.
The Wallabies player is a polarising figure, something which his opponent recognised a day before at the official press conference.
Dunnett, who works as an insurance agent, said: "He's fighting for the next chapter in his biography, for sponsors, but I'm fighting for everything. He's got a few followers but he's got a lot of haters as well. I've got a lot of people behind me.''
- APNZ