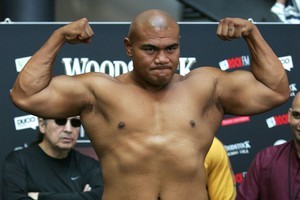 The king is dead but it was a long, painful death. Last night, David Tua was taken the distance by Demetrice King, winning a unanimous points decision.
It was another win for Tua, important after his draw against Monte Barrett in his last fight, but it wasn't as decisive as some might have hoped. He was dominant from the outset, but couldn't land the knockout blow. To be fair, most of King's opponents have struggled to do that, considering only two of his 20 defeats have been by knockout.
King didn't offer much in attack but rarely took a backward step and was well organised on defence. He even openly challenged Tua to attack in the sixth round, which prompted a flurry of punches, but reacted to suggest Tua's blows were having little effect.
Tua did what he needed to. He was busy throughout, working the left jab to good effect and occasionally unloading with the left hook, and looked sharp and fit. He tried a different approach last night to show he is more than just a slugger with a left hook. Whether it's enough to satisfy the paymasters will play out over the next few months.
"I'm very, very satisfied," Tua said. "He's not an easy man to beat. You can easily overlook his record but he came to fight. I did the best I could in there, he's a big unit.
"There has to be more than one way to take care of the job. I know I have a decent left hook and it would be easy to rely on that. I needed to show something different."
It was dubbed the Backyard Brawl and fulfilled that more for its location than anything else. Amazingly, it was his first fight in south Auckland since turning professional in 1992.
But like a lot of brawls, there wasn't much warning about this one. In fact, you'd be forgiven if you'd forgotten about the fight. In boxing's world of hyperbole, the relative silence was deafening. There was little in the way of a build-up and the Pacific Events Centre in Manukau was barely two-thirds full.
But the fight was important for Tua for many reasons. Lose, and the 38-year-old's quest for another world title fight was effectively over. Win, and particularly an impressive win, and it would get him back on the path he fell off with that awkward draw and knockdown he suffered against Barrett in the United States last year.
Things are never easy in the boxing world and politics mean events change about as quickly as one of Tua's left hooks. But a few events could be working in his favour.
Tua is lining up a rematch with Barrett in Auckland in June. There is, after last year's result, unfinished business for both fighters. Draws serve very little purpose.
Evander Holyfield has also been mentioned as an option but he may want too much money, while Hasim Rahman looms as another possibility.
If Tua gets through Barrett successfully, the obvious next fight would be against a top-10 fighter also looking for a shot or even an eliminator for a world title fight. There were even hopes in the Tua camp the fight with Barrett would be to find the No 1 contender.
The ultimate goal is a shot at a world title again but it's not likely to happen this year. Tua's promoter Cedric Kushner received an offer from one of the Klitschko brothers but turned it down, believing the terms were an insult.
"When they are going to make US$5 million and they offered US$275,000, then it's wrong," he said. "It was an insult."
Kushner said he didn't expect another chance against one of the Klitschkos or David Haye this year but felt another world title shot might be just one or two fights away.
Things are starting to happen in the previously almost moribund heavyweight division. For starters, Briton Haye, the WBA champion, is set to gain the long-awaited clash with Wladimir Klitschko, the WBO, IBO and IBF champion.
His brother, Vitali, the WBC champion, was fighting tough Cuban Odlanier Solis overnight and one of the Ukrainian brothers is set to fight 34-year-old Polish heavyweight Tomasz Adamek later this year.
All of this seems good for Tua. If the Klitschkos beat Haye, Solis and Adamek - and they are favoured to do so - that means the big brothers have pretty much fought everyone there is in the heavyweight ranks. Except Tua.
One complication is the involvement of his US trainer, the respected Roger Bloodworth with "stablemate" Adamek. The Pole is set to fight one of the Klitschkos, probably in September, and is fighting again next month.
He will then have fought four times in 12 months - the sort of calendar many feel Tua should have. Adamek's busy diary means it is not yet clear when Bloodworth will be back on deck with team Tua.
Certainly the 'Tuamanator' will need to get more active. Last night's fight was his first since the draw with Barrett in July. He needed three months to get over the shoulder injury suffered against Barrett but that's a long break, certainly for someone of Tua's vintage. Too long for a supposedly eager title fighter and too long for someone who supposedly needs money.
There appears to have been some reluctance within the Tua camp to get in the ring more regularly, more than just the recovering shoulder - but one of the best ways to convince promoters of your worth is winning and winning often.
Beyond the possible Barrett rematch, talks are under way for Tua to fight again before the end of the year.
- Additional reporting, Paul Lewis.