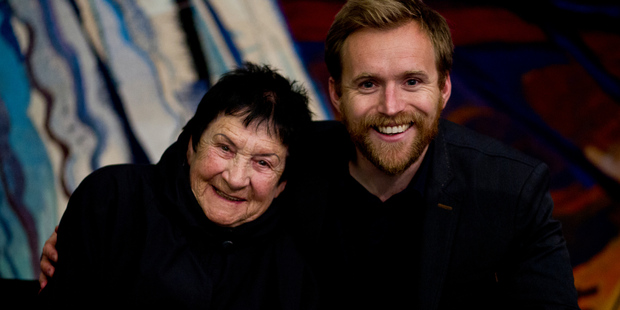 Perky Cambridge-based explorer and historian Huw Lewis-Jones blew some much-needed levity into the day with his illustrated talk on the 1953 "conquest" of Everest, using George Lowe's remarkable photos from that expedition.
Like Sir Edmund Hillary, Lewis-Jones hates the word conquest, a word which cannot apply to a mountain. But that was the language of the 1950s.
Lewis-Jones got to know Lowe briefly before his death last year, saying when he visited his home in England, the umbrella stand in the hall held the very ice-pick used in the ascent.
The photos, in colour and black and white, were extraordinary, capturing the friendship between Hillary and his friend, and intimate moments like Lowe cutting Sir Ed's hair.
Their team of sherpas were rightly honoured in the photos; like today, mountaineering teams just could not manage without them.
As Hillary and the team edged closer and closer towards Everest, we were there with them until that last night when the great mountaineer and Tenzing prepared for the final climb to the top. There are no photos of Hillary on the top; he took all the photos of Tenzing at the summit ass he dared not start teaching the great Sherpa how to use a camera on the top of Mt Everest (they could have given him lessons beforehand, surely?).
Lewis-Jones' enthusiasm and humour added up to a wonderful session which made you appreciate even more the qualities of one of our greatest men. It also very much emphasised it was a team effort.
As an aside, Lewis-Jones spent most of Friday afternoon bungee-jumping off Auckland Harbour Bridge. He wants danger, he wants excitement, and he is open to offers for entertainment on Sunday.