Sports books are a great Christmas buy. Andrew Alderson and Dylan Cleaver, two great devourers of the genre, offer 11 good reads (and one not so good) for this year.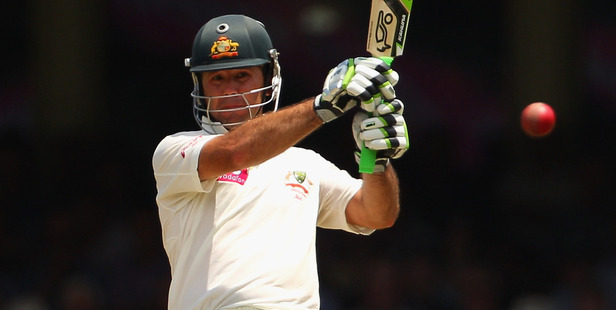 Wheelmen: Lance Armstrong,The Tour de France and the Greatest Sports Conspiracy Ever
By Reed Albergotti and Vanessa O'Connell
Gotham Books
This is a superb piece of journalismby the two Wall Street Journal reporterswho were pivotal in unravelling the Armstrong lie. Unashamedly focused on the business side of Armstrong Inc, Wheelmen is nevertheless packed with page-turning, mind-boggling information. Much less preachy than DavidWalsh's Seven Deadly Sins,Wheelmen exposes in intimate detail the extraordinary level of complicity required by those in Armstrong's inner circle to keep the charade going. There is a cottage industry of Armstrong titles but if you're going to take one to the beach this summer, this is a really strong, impeccably sourced piece ofwork. -DC
Bookie Gambler Fixer Spy
By Ed Hawkins
Bloomsbury
After absorbing Hawkins' research, you will find it hard to watch cricket again, particularly limited overs matches on the subcontinent.
Hawkins instances amessage sent by an Indian bookmaker during the 2011World Cup semifinal between India and Pakistan inMohali.
Almost all his bold predictions proved true-at odds of 405-1. Hawkins immersed himself in the Indian betting underground and his findings indicate that cricket, on occasion, is as choreographed as The Truman Show. -AA
My Autobiography
By Sir Alex Ferguson
Hodder & Stoughton
For the neutral - if there can ever be a 'neutral' position when it comes to Manchester United-this is probably the most disappointing offering of the year. Written in collaboration with one of British sportswriting's big guns, Paul Hayward, this book hints at insights, skirts controversy and generally flatters to deceive. At its best,MyAutobiography is conversational and gives the reader the sense that he is being taken by Ferguson on a guided tour through Old Trafford, pausing at photos of some of its famous players and moments to add glib commentary. At itsworst, it iswoefully inaccurate. Ferguson'smemory lets himdown by one count 45 times, sometimes embarrassingly so, like saying he sold Jaap Stamto Roma. United fans will welcome this in their Xmas stockings; the rest might find themselves quoting the title of Bob Geldof's book: Is That It? -DC
Seven Deadly Sins- My Pursuit of Lance Armstrong
By DavidWalsh
Simon and Schuster
Walsh became the sport journalist's journalist in his quest to pin Lance Armstrong. This book tells that story, stretching back to his first conversation with sport's biggest cheat in the "late afternoon on Tuesday 13 July 1993".Walsh is an ace of detail. At times, his pursuit appears obsessive but that's understandablewhen you've chased a liar for years and failed to get concrete proof. Walsh's loyalty to the former L'Equipe cycling writer and co-author of LA Confidentiel, Pierre Ballester, is touching, as are the thanksto his family, his Sunday Times bosses and those in the cycling community who offered unconditional support. He alsoissues a pertinent warning to anyjournalist:"Most newspapers aresuckers for access. An interview, nomatter how bland, with a big staris cheaper and easier to sell thana long investigation with lawyerscircling like vultures in the skyabove." Etch that on the planningwhiteboard. -AA
Luck
By Ed Smith
Bloomsbury
Smith keeps his readers entertained with whimsical anecdotes and self deprecating humour which helps makes apotentially drytopic like 'luck'interesting. Hemakes compelling arguments that talent and genetics are the key determinants in sporting success,more so than practice and nurture. His claim on the influence of coach halftimeteamtalks as "not a strategic device. It's a set of rosary beads" also rings true based on the number of games changing fortune in the second half being based more on the lawof averages. -AA
The Best American Sports Writing 2013
Guest editor: JRMoehringer
Series editor: Glenn Stout Mariner
This annual anthology is a treat for sports fans, particularly American sports fans, but in recent years, they have been a little uneven. Under Moehringer, who collaborated with Andre Agassi on Open, itmakes a welcome return to form. The pieces selected range in tone frompathos, to analysis, to reportage and laugh out loud humour. To pick a favourite is too hard but Chris Ballard's Sports Illustrated piece about the coach of a high school baseball team dealing with the loss of their star pitcher in a car accident is taut. Allison Glock's piece on the doomed love story between two women basketball stars is haunting. Jonathan Segura's essay, The Gameof His Life, about a doomed Manchester United supporting friend is funny and tragic and full of "wanton profanity" all at once. -DC
Raw
ByMartin Crowe
Trio Books
Oneword screams fromthe 303 thoroughly readable pages of Martin Crowe's second autobiography: Cathartic.
Crowe bares his soul grappling with a career spanning professional cricket, television production and the contraction of lymphoma. Raw leaves the impression he feels equal parts fulfilled and haunted by his experience. Crowe writes "that innocent boy became a man who harboured grudges, he became the world record holder for grievances" and that he had "a disconnected spirit and soul overwhelmed by the ego and theemotional instability created from my unfinished teenage development". The book's title quickly appears apt. Crowe is without peer as a thinker on cricket in NewZealand. Examples include the yet-to-be-delivered test championship, an assessment of Brendon McCullum's batting, Muttiah Muralitharan's legacy and how cricket best uses technology. Cricket will be the loser if there is no reconciliation between himand the game he loved. -AA
Ponting: At the Close of Play
By Ricky Ponting
HarperCollins
Slammed by some, including Shane Warne, for revealing dressing-room secrets, Ponting's honesty is the strongest element in this epic 700-page sweep of his career. It is an uneven account: someseries and events are covered ad nauseam, someare brushed aside in the same imperiousmanner withwhich he treated NewZealand bowlers at his best. His account of growing up on the wrong side of the river in Launceston and the influence wise old heads had on him at Mowbray Cricket Club is touching. His recollection of his battle with binge-drinking-he admits to alcohol blackouts-is unflinching. His honesty in dealing with his waning powers as a batsman is admirable. There's a fair bit of yawn in here, though, and the controversy is really not all that controversial. And Warney, he really does speak kindly of you all the way through it. You really should read it. -DC
The Dirtiest Race In History
By Richard Moore
Bloomsbury
Moore does not shirk the task of tracking down Ben Johnson and Carl Lewis. There's painstaking research as to what happened before, during and after the infamous 1988 Seoul Olympic 100m final. Moore produces a reserved portrait of Johnson who, with remnants of a stutter,works at a local athletics club in Toronto. Eventual goldmedallist Lewis wouldn't be interviewed officially other than at a stagemanaged press opportunity at a Nike launch in London. Those on the periphery are themost interesting. The fact six of the eight 100mfinalists in 1988 (Calvin Smith and Desai Williamsbeing the exceptions) were linked to performance-enhancing drugs at somestage in their lives hovers awkwardly. -AA
Men in Black: The First 500Tests
By Ron Palenski, Rod Chester and Neville McMillan
Hodder Moa
At 1064 pages and 3.5kg (and an RRP of $59.99), this is possibly the largest book published in NewZealand. It's a doorstop. It's also lovingly curated. Since long-time New Zealand sports journalist Palenski took over themantle from Chester and McMillan, the observations have becomeslightlymore arch but this is not a bookwhere you cometo learn about off-field scandals and peccadillos. This sticks to a largely tried and true formula. It's a winning one, sowhy change? -DC
Triggs-TheAutobiography of Roy Keane's Dog
By Triggs (as woofed to former Irish sports journalist of the year Paul Howard)
Orion Books
Roy Keane's labrador Triggs cameto famein paparazzi shots with former Manchester United skipper Keane after he walked out on Ireland at the 2002 World Cup. The legend grew, as did Triggs' ego in the imagination of Irish sports journalist Paul Howard: "My ability to read a footballmatch as if it were nomore complex than, say, the thoughts that pass through Ashley Cole's mind in a hotel room at one o'clock in themorning with a mobile phone in his hand, was something Roy struggled with at the beginning." Howardmanages the gambit writing an 'eye of dog' account with aplomb. I learnt as much about football as I have anywhere thanks to Triggs' habit of basing tactics on those used in History Channel war documentaries. -AA
Netherland
By Joseph O'Neill
Fourth Estate
Cricket sits on the periphery of this novel about life in post 9/11 NewYork. An immigrant Dutchman, Hans van der Broek, chooses the sport as his refuge at the Staten Island club but the book has a wider brief as he struggles to adjust to life with his wife and young child who eventually move back to London after theWorld Trade Center towers collapse. The plot centres around van der Broek's friendship with Trinidadian cricket fan Chuck Ramkissoon,whomoonlights as an umpire. In shades of Peter Plumley - Walker, Ramkissoon winds up handcuffed at the bottomof a New York canal and the story explores how his death cameto be. Stephen Fleming features in a cameowhen the pair go into a restaurant and the former NewZealand captain is beaming through the television facing Shoaib Akhtar in Lahore in 2002. -AA