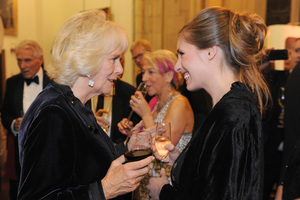 Canada has claimed Eleanor Catton as its own after she won the Man Booker prize yesterday.
Canadian media, which has reported widely on her success, noted Catton was born in Ontario.
The National Post described her as "the first Canadian author to win one of the world's foremost literary awards in over a decade". The paper's review of the novel described it as stylistically "as solid as the brick it physically resembles".
The Globe and Mail went with the more diplomatic "Canadian-born author", and said: "Despite its length, there isn't a sentence that feels weak or lazy, and by all objective criteria, The Luminaries is a remarkable accomplishment."
In Britain the Telegraph, which awarded the book five stars in its review, called it an "irresistible" novel.
The Financial Times said the win would mean "a sales boost in the run-up to Christmas" for the book's UK publisher Granta and described the novel as being "a page-turner with a murder mystery at the heart of its plot".
The Independent said The Luminaries was an "epic tale of love, murder, conspiracy and deceit".
The Washington Post said the book was "an enormous and enormously complex novel".
- APNZ