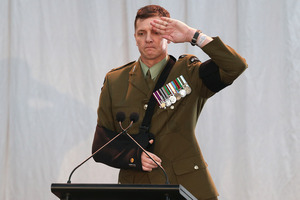 The New Zealand commander of the "Battle of Baghak", in which two Kiwi soldiers were killed, has been allowed to interview witnesses for a book he is writing.
Major Craig Wilson was given access to soldiers involved with the firefight in which Lance Corporals Rory Malone and Pralli Durrer were killed on August 4 last year.
Wilson was injured during the battle, which has been described as the regular army's biggest since Vietnam.
A Court of Inquiry has reported back but a Military Police investigation into the New Zealand troops' actions is still under way.
The Court of Inquiry found command on the day was "problematic".
"The command and control of the entire contact on 4 August 2012 was problematic due to the scale of the contact, the involvement of the ANSF (Afghan National Security Forces), the terrain and the communication systems available."
Corporal Peter Page, known as Soldier F, has told the Herald on Sunday of the disarray that led to him and another soldier being wounded by friendly fire.
It is understood Wilson was also allowed to view Court of Inquiry findings before they were released as part of his research into the book.
The New Zealand Defence Force has convened a review panel, which has not yet approved the book for release.
In a statement, Chief of Army Major General Dave Gawn said Wilson was writing the book "in a private capacity".
Gawn said informal discussions had taken place between Wilson and other Crib 20 personnel since the Baghak firefight.
"However, these were not formal interviews. (NZDF) played no part in the arrangement of these discussions."
He said Wilson had not had any access to the Military Police investigation evidence.
"As a service person who was involved in the contact at Baghak, Wilson was briefed on the Court of Inquiry, together with other soldiers on Crib 20, and has had the same rights to the Court of Inquiry as other witnesses. The Court of Inquiry and Military Police investigations are separate investigative processes that are carried out objectively and free from command or other influence."
The Military Police investigation is due to report back in the coming weeks.