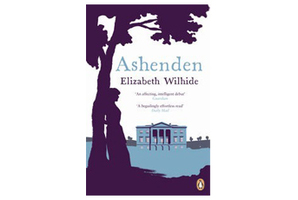 Ashenden by Elizabeth Wilhide
(Penguin $37)
"Houses have their own ways of dying," wrote E.M. Forster, "some with a tragic roar, some quietly." Ashenden Park, the honey-stoned Palladian villa at the heart of Elizabeth Wilhide's debut novel, however, seems to enjoy many lives, always brought back from the brink by a fresh lick of paint or new plumbing.
When Charlie Minton, a middle-aged photojournalist, is left the eponymous house by an ancient aunt, he's keen to sell. But his sister, Ros, ignoring the "blooms" of decay and "stone teeth missing under the roofline", has other plans.
From this starting point Wilhide, a writer on architecture and interior design, embarks on a series of historical vignettes relating the history of Ashenden through the eyes of the people who have lived and loved within its human-scaled walls.
Country house dramas tend to be constructed around the travails of one particular escutcheoned clan.
Instead, Wilhide's episodic approach enables her to span the centuries and several custodial handovers, from 18th century nabobs to Victorian manufacturers, to music industry zillionaires. As each generation leaves behind evidence of their own home improvements, traces of their psychic energies still flutter around like the cherubs on the ceiling of the grand hall.
The book opens with the story of James Wood, Ashenden's original architect. A bluff Yorkshireman with a gift for pretty plans and elevations, his life is toppled by the tragic consequences of an onsite accident. While some of the subsequent stories interconnect - the fate of a pregnant housemaid feeds into a story about a court-martial - others stand alone.
In the memorable chapter The Boating Party, Edwardian class tensions spill over during a summer river trip in a punt.
Perhaps the novel's only flaw rests in the cleverness of its conceit. While Wilhide's writing is never less than engaging, the novel's many stories lack an over-arching emotional reach. As Palladio might have reminded her, a unifying vision is all.

- Independent