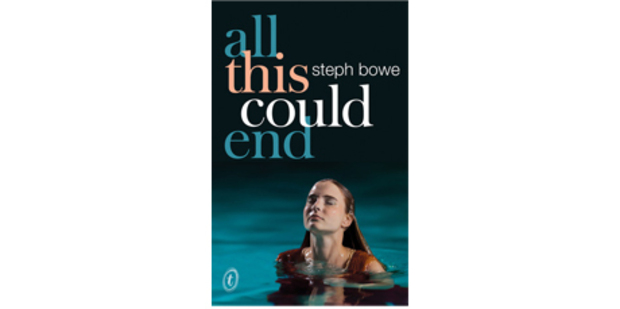 All This Could End by Steph Bowe
(Text $26)
Young Australian Steph Bowe has an incisive grasp of the teenage mind and no wonder; this is her second novel and she is still just 18. And it's terrific. A 16-year-old hates her family life and wants to escape. No surprises? But Nina's parents are bank robbers who think nothing of taking their children along to help with the heists. Bowe's characters are plausible and attractive, and she takes an insightful look at morality and parental responsibility, while holding the reader hostage with her fresh style and original plot.
When We Wake by Karen Healey
(Allen and Unwin $21.99)
It's the best day of your life: a new boyfriend, a cause to believe in. Then everything goes black and you awake 100 years later, in a strange new world with all your loved ones gone. This is the nightmare facing Tegan, the first person to be cryogenically frozen. But her rebirth into a strangely hostile world spirals into the terrors of a military conspiracy and finds her fighting for her life.
New Zealand writer Healey has crafted an edge of the seat sci-fi thriller that is just begging for a sequel.
An Anthem For Jackson Dawes by Celia Bryce
(Bloomsbury $19.99)
Cancer sucks. Having it when you are a teenager sucks even more. And Megan is pretty depressed when she turns up for her chemotherapy to find she is in the children's ward with babies and toddlers. But there is one bright spark in the place - Jackson Dawes, beloved by all his fellow patients, an ebony Adonis with a mischievous streak. At first annoyed by his cheek, Megan later comes to rely on him, and they form a fleeting bond; but her world is turned upside down when she discovers he has gone home to die. There is no shortage of teen books about terminal illness - along with vampires and zombies it seems to be the plat du jour - this one is aimed at younger teens. Megan's self-centredness means she is not particularly engaging. However, as the book progresses, that actually turns out to be the point.
Zom-B by Darren Shan
(Simon & Schuster $17.99)
After an odd prologue, "B" takes up the story, with his family debating whether the news item about a zombie attack in Ireland is real or CGI. His dad, who we discover is a full-blown racist, thinks it's a joke, but that it's okay to lose a few Irish. B claims to dislike his racism but in situations at school we find B has absorbed some of his dad's attitudes. But when zombies attack the school, B is forced to join forces with anyone with enough guts to fight. Zom-B may take some getting into but the determined will find it all starts to gel. A twist or two make you wonder what will come next (11 more books are promised).
Catch The Zolt by Phillip Gwynne
(Allen & Unwin $18.99)
On his 15th birthday, Aussie teen Dom Silvagni learns he must repay an ancient family debt, Mafia-style. While Dom's lifestyle may seem a bit hard to believe, there is a seamier side of life too. His first task is to catch "the Zolt" who has so far out-run police and a private investigator but who has gained hero status on Facebook. We have the usual themes of relationships and friendship but this is a fun, fast-paced, gripping read. This first of a series called "The Debt" came out in January, followed swiftly by part two (Turn Off The Lights), with more action-packed but somewhat implausible thrills as Dom tackles his second repayment. For fans of the likes of the Cherub, Young James Bond and Alex Rider series. And there's no long wait, part 3 is out this month.