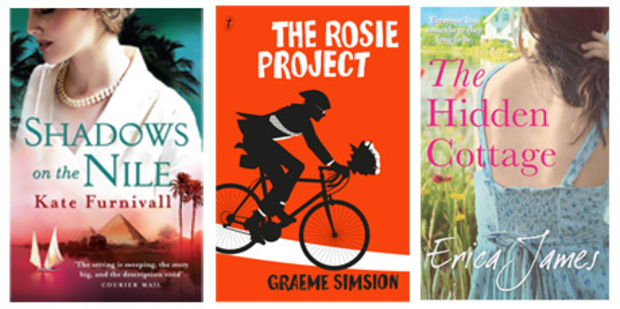 The Secret Keeper by Kate Morton
(Allen and Unwin $39.99)
This novel by Aussie writer Kate Morton moves between the London Blitz, to 1961, and to the present day, as Laurel Nicholson tries to unravel a family secret that her dying mother Dorothy has kept for 50 years. As a teen, Laurel saw her mother commit an awful act of violence on a mystery man, and has never really known why. Her quest for the truth leads her to the realisation her mother was not the woman she thought she was. Well written, with a cleverly constructed, complex plot that will keep you guessing. Recommended.
Shadows on the Nile by Kate Furnivall
(Hachette $36.99)
The sixth novel from Kate Furnivall is set between London and Egypt from 1912 to 1936, and is as much a tale of adventure as it is a love story. Jessica Kenton is worried when her beloved brother Timothy vanishes after a seance, and Sherlock Holmes-style, follows a series of clues to track him to Cairo.
She's accompanied by Sir Montague Chamford, who owns the house where the seance was held, and claims to feel accountable for Tim's disappearance. Furnivall attempts to cover a lot of ground, from fascism to eugenics, and as a result the book doesn't flow as well as it could. Still, the characters are interesting and the Egyptian aspects of the book are well-researched and evocative.
The Rosie Project by Graeme Simsion
(Text Publishing $37)
Melbourne professor Don Tillman has very few social skills, especially when it comes to women. He'd quite like a wife though so designs a 16-page questionnaire to weed out any unsuitable candidates. His friend and colleague Gene throws in wildcard Rosie, and despite her not scoring high, Don finds himself breaking his own rules - and throwing out his routines - to get to know her better.
It takes a while to get used to Don, but once you do you'll find this a touching and rewarding read.
Finding Casey by Jo-Ann Mapson
(Bloomsbury $29.99)
This is a bit of a tear-jerker that fans of the likes of Jodi Picoult will enjoy. Glory Vigil moves to Santa Fe, New Mexico, with her second husband Joseph and finds herself unexpectedly pregnant at the age of 41. Her adopted foster daughter Juniper is away at college but can't move on from the ghost of her past - the disappearance of her sister Casey when the pair were children. Mapson crams a little too much into this novel and it's easy to guess the plot early on, but the likeable characters keep you invested right to the end.
The Hidden Cottage by Erica James
(Orion $34.99)
The dysfunctional Channing family is full of secrets, which are all bubbling away under the surface, with matriarch Mia battling to keep the peace. But it's not until wealthy, handsome and newly single Owen Fletcher arrives back in town after 30 or so years that Mia's carefully constructed walls start to tumble down. A predictable but decent beach read, though make sure you're prepared for a good dose of heartache.