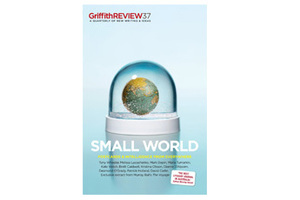 Griffith Review 37 by Julianne Schultz (Text $36)
Probably Australia's best literary journal, The Griffith Review is always a pleasure. The writing is of an invariably high calibre, there's usually a good mix of fiction and non-fiction, prose and poetry, a page or three of stunning photography, and best of all, it never fails to be thought-provoking.
Number 37 is no exception to this general rule. It grabs you right from the opening line of the first essay A Troubled World: "'At last,' I think, as a boulder hurtles towards me."
The theme for this issue is "Small World", and the introduction and the work it contains reflects upon Australians' cranky relationship with the rest of the world.
Most of the works are, broadly speaking, travel writing, and there are some crackers: that Tony Wheeler piece is one; David Carlin's The Cigarette Seller of Addis Ababa is another.
Lesley Synge's Midsummer in Melanesia is ghastly (in a good way), the story of a holiday in the Solomons that the writer had, against her better judgment, with her son and his alcoholic dad.
Gayle Bryant's telling of the story of an Australian survivor of a terror attack on his Mumbai hotel in 2009 is stark and gripping. Mark Dapin writes with honesty about his inability to find the story when he went with an Aussie veteran on tour to the significant sites in Vietnam - a clear inability to see the wood for the trees.
And perhaps best of all, Kate Veitch's account of her rear-guard resistance to the advance and proliferation of digital imaging technology is a well-turned reflection on what it is to "experience" a place or time in the age of compulsive photography.
There's only room for three pieces of prose fiction this time around - two are fairly unremarkable short stories; one is a relatively apt excerpt from Murray Bail's odd latest novel, The Voyage - and for two poems.
The upshot is that the fiction seems a little like a sideshow in this edition. The photography, on the other hand, a photo essay called Extreme States by Michael Hall, is exquisite. They're landscape shots, alluding to the effects of climate change - a hallucinatory shot of a bulk coal carrier grounded in a vicious storm off Newcastle, a slate-grey lake among the melting ice of Iceland's ice-cap, the gasping cracks in the drying bed of Lake Hume, the headwaters of an Aussie hydro scheme ...
As editor Schultz points out, Australians are under pressure to come to terms with differences in nationality and culture these days, and it's not just our cousins across the ditch.
Technology has made the world smaller, and with climate change set to make the very walls close in on us, there are lessons in this collection for everyone, regardless of where they live.

John McCrystal is a Wellington reviewer.