Recipes from around the world never fail to entrance, whether you are a keen home cook or prefer to pore over the beautiful photos. Linda Herrick presents a selection of the latest food for thought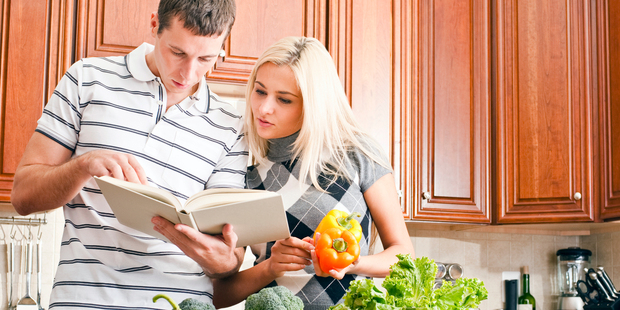 Gordon Ramsay's Ultimate Cookery Course (Hodder & Stoughton $49.99)
I have only one Ramsay book, but it's well-used because it is so practical. In this latest volume, Ramsay reassures us he is not trying to turn readers into Michelin-starred chefs, nor spend hours "primping in pursuit of perfection". He simply wants to teach people to enjoy cooking good food at home and build their confidence. He offers advice on basic kitchen kit before launching into "Classics with a Twist", the first of 10 step-by-step recipe groupings. As a sign of the times, he includes "good food for less", along with equally useful suggestions for "cooking for one or two" and "cooking for crowds". He winds up with an invaluable round-up of basic skills, including how to make stocks and sauces. Super-smart recipes; no gimmicks

Who Put The Beef In Wellington? by James Winter (Kyle Books $45)
James Winter, who produces the BBC series Saturday Kitchen, occasionally shown here on the Food Channel, has put together a bright and breezy illustrated survey of 50 classic recipes and the intriguing stories behind them.
It starts with caesar salad, created in 1920s America (Prohibition times) by chef Caesar Cardini, who decided to open a restaurant in Tijuana, where liquor was legal. It became so popular with boozy Hollywood stars that one night, when Caesar ran out of food - except lettuce and the ingredients for dressing - he improvised and made a salad "at the table". Caesar's salad became so hip that socialite Wallis Simpson fell for it and took the recipe to Europe. The book is jam-packed with juicy stories, including Henry VIII's passion for apples, the connection between beef carpaccio and Harry's Bar in Venice, and why lobster thermidor has its origins in the French Revolution.

Easy by Bill Granger (HarperCollins $59.99)
The always-steady Bill Granger returns with his 10th book, this time with section headings like "piece of chicken", "mince and sausages", "carton of eggs". Basic Bill seems to have his health/weight in mind these days, with references to recipes that allegedly help keep the arteries clear (butter chicken made with yoghurt) and the discovery that his waistline loves fish "three times a week", quickly adding he tries to buy fish that's sustainable (but then fudges by specifying "firm white fish" for the recipes instead of naming suitable species). His chapter on mince and sausages is prefaced by asking how he can make mince "sound sophisticated and worthy"; unnecessary when he follows that up with a useful series of recipes that include DIY cevapcici (little mince and lamb sausages).

The Second Black Dog Cottage Cookbook by Adie McClelland (Phantom House $45)
McClelland's first Black Dog book was a quiet charmer with nice photos and a heavy Greek influence on the Wellington food writer's recipes. It's more of the same here, with some Asian notes as well. Greek food is a cuisine woefully under-represented in this country and, done well, it's light, herby and tasty. Rice soup with chicken ("a great antidote for hangovers!" McClelland cries); stuffed tomatoes; Easter torte ... but then we get lamb curry, pork Southeast Asian style, Pacific beef salad. So it's a mixed bag in terms of unity but, like its predecessor, it's a modest pleasure.

A Global Feast: Traditional Meals In A New Homeland by Afife Skafi Harris & Beryl Lee (Otago University Press $39.99)
Lebanon-born Harris, who teaches cooking in Dunedin and Lee, a former teacher, now president of Dunedin's multi-ethnic council, have spent four years putting this book together. It's a simple concept: 28 immigrants briefly describe their lives back in their homeland and the central role of cooking in their families then and now, before sharing some key recipes. As some were refugees, their stories are shot through with poignancy and longing; and the food of their cultures is a vital way of maintaining contact with their families, even if only in spirit. From Fatima and her Somali food to Toktam and her Iranian food, the book includes an impressive array of recipes and stories from places as diverse as the Czech Republic, Afghanistan, Turkey, Indonesia, Brazil, Jordan and Costa Rica.

Clarissa's Comfort Food by Clarissa Dickson Wright (Kyle Books $39.99)
Good old Clarissa. There's no non-sense tolerated here, which is obviously widely appreciated, with more than 60,000 copies already sold of the hardcover edition of this book. She notes that as she began writing it, she was driven out of her home by dry rot and remained "cast out", due to the incompetence of her builders, heaven help them. So she was writing about comfort food while staying in other people's houses. The book is dedicated to Sonic, a friend's old greyhound, which ate all her "mistakes". Her old mate Jennifer would be amazed: Clarissa has included a tofu recipe (aubergine and smoked tofu), unthinkable back in the day. But fear not. By the time you come to her fish pie, topped with mashed spud and grated cheddar, cornish pasties (with turnips), sausage casserole, and steak and kidney pudding, you find yourself under some sort of stodge spell, slap bang in the haze of summer. It's the magic of Clarissa.

Mark Hix On Baking (Quadrille Publishing $49.99)
British restaurateur and Independent food columnist Mark Hix (who served the last lunch to bon vivant Keith Floyd before he had a fatal heart attack) reckons most cooks he knows run a mile when they hear the word "baking". But, he points out, baking is not just about cakes but savoury dishes as well - and "anyone can bake" because, technically, anything cooked in an oven is "baking". The book covers sweet pies, tarts, biscuits, puddings, cakes and breads, plus some ambitious savoury dishes like fish and meat (veal baked in hay), veg (lobster thermidor baked potatoes) and pies (crab and seashore vegetable tart; ham hock, snail and wild garlic pie). So, quite advanced recipes for adventurous
palates and cooks.

The Art Of The Restaurateur by Nicholas Lander (Phaidon $55)
If you are already a restaurateur, have ambitions to become one or simply want to get an insight into the world of restaurants from high-end cuisine to bistro cafes, look no further than this engaging collection written by Lander, former owner of L'Escargot in London and highly regarded food columnist for the Financial Times. Lander argues that great restaurants are not made by great chefs alone; they must have a team which offers the customer a sense of warmth as well as good food. The opening chapter is about his own experiences at L'Escargot when he opened it, at the age of 29, in 1981. He then moves across a diverse range of places and people, including Australia's Neil Perry, elBulli in Spain and Trevor Gulliver at St John in London. The stories are gripping, the characters fascinating and the book is enlivened by lovely line drawings by Nigel Peake.