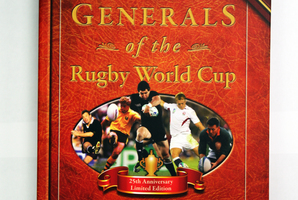 Paul Verdon's series of collectors' rugby books have created a niche - restricted-run, historically-aimed publishing complete with the signatures of the main protagonists to enhance collectability - and he has done it again with Generals Of The World Cup.
A year on from the last World Cup, there have been Cup books aplenty. But Verdon looks at each tournament from the perspectives of the "generals" who played in the final, guiding their team to the world title - rugby's first five-eighths; fly-halves, outside halves or stand-offs, as they are known.
It features the original signatures of each World Cup-winning first five-eighth so far: Grant Fox, Michael Lynagh, Joel Stransky, Stephen Larkham, Jonny Wilkinson, Butch James, Aaron Cruden and Stephen Donald. He interviewed the winning first-fives, looking at the tournament from their point of view and the strategies they and their teams espoused.
One of the most interesting sections was Larkham's - the converted fullback who was originally panned by critics for not having a kicking game of international quality but who kicked a dropped goal of nearly 50m to clinch the 1999 World Cup semifinal against South Africa.
The Australians then beat the French in the final to become the first team to win the World Cup twice.
The book details how Larkham dropped the goal in spite of never having kicked one in a test before and in spite of a knee injury to his kicking leg. He also reportedly could not see the posts properly. His eyesight was poor and he had corrective eye surgery after the World Cup.
This is Verdon's 11th book. This book is not available in stores but through Hill-Verdon Publishing, 39 Harbour View Rd, Pt Chevalier, Auckland 1022. Email paul.verdon@xtra.co.nz, phone (09) 846 4991, or website www.verdoncollectables.com, $295 plus postage.
To go into the draw to win one of two copies of Generals Of The World Cup, email your entry to sports@heraldonsunday.co.nz by 5pm Friday, November 16, answering these two questions: Who are the "generals" of the book's title?Who produced the winning kicks in the 1999 and 2011 World Cups?
All entries must include your name, address and phone number. The two winners will be contacted this week.