SAS officer-turned-writer Chris Ryan tells Stephen Jewell about keeping one step ahead of the enemy, outwitting the Americans and how working with TV crews taught him to relax.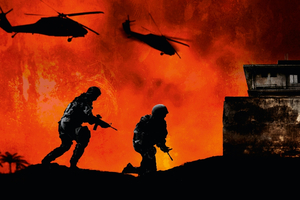 As the only member of the ill-fated Bravo Two Zero patrol to avoid capture during the first Gulf War in 1991, Chris Ryan trekked through the Iraqi desert for more than a week before reaching the safety of Syria. So you wouldn't think that the former SAS operative would feel intimidated by the prospect of a book tour. But the 51-year-old Geordie admits he often breaks out into a cold sweat when he meets fans of his popular military thrillers.
"One of my biggest fears is the old publicity train," he laughs. "It's very alienating when you're sitting behind a desk and fans come up, wanting to get something signed. I don't mind doing talks, because you're up on stage and you can move the audience in any direction, so you feel you're in control. But I'm bricking it whenever I have to do a book signing. I always come out shaking."
Running a team of bodyguards after his honourable discharge from the SAS, Ryan - not his real name - struggled to cope with ordinary life after more than a decade in the armed forces. "I had to get used to being a civilian again. It wasn't until several years later that I realised I was having bouts of post-traumatic stress, where I had a personality disorder."
He wrote his first book, The One That Got Away, an autobiographical account of his dramatic escape, in 1995 after being approached by a production company that wanted to turn his story into a television series. "They said they wanted to make it realistic but they didn't," he recalls. "The only way I could address that was to write it myself. I already had the manuscript from my debriefing, so I took that to the publishers."
Since then, Ryan has written more than 40 novels for adults and children including the Geordie Sharp and the Chris Ryan Extreme series. He has also hosted several television documentaries, including Hunting Chris Ryan on the BBC, and co-created ITV action series Ultimate Force, which he now refers to dismissively as "Ultimate Farce". Fortunately, he is happier with the more authentic tone of Sky's adaptation of his 2007 novel, Strike Back, which will this year screen reach its third season in Britain. However, he took some time to adjust to the entertainment industry's more relaxed pace.
"I was expecting everything to run with military precision," he says. "I wasn't a nice person, as I would keep flying off the handle. I couldn't see the wood for the trees. I had a nice, successful career but I was acting badly. I couldn't tolerate bad manners, people being rude. When you're on a TV set, some actors can be very precious and will make everybody wait. I lost my temper with producers, directors and actors, when really I should have been a lot calmer and more understanding. Whereas now it's all like water off a duck's back. I've seen the error of my ways in terms of my attitude and now few things bug me."
Centring around the assassination of Osama bin Laden by American troops last May, Ryan's latest novel reads as if it has been torn directly from the headlines. Focusing on British SAS officer Joe Mansfield, who witnesses more than he should have after being caught up in the covert mission, Osama suggests there was more to the death of the al-Qaeda leader than originally met the eye.
"It was an American-led operation, but for me it seemed like a good opportunity for a story," he says.
"First of all, I didn't believe he had actually been killed. It didn't make any sense to go in there like that on a hard arrest and execute him there. They would have been better off taking him to some compound in the United States and extracting information out of him. I thought straight away the story could start with the SAS putting up a cordon, because they do work alongside the American Special Forces and then one of the lads realises he hasn't been killed after all. Then the Americans come after him because they want to keep it quiet."
With Joe trying desperately to keep one step ahead of his unseen adversaries, Ryan enjoyed the opportunity to outwit the usually dominant Americans. "It really bugs the daylights out of me how the Americans always steal the factual parts of history when they're making a movie," he laughs. "This is my chance to steal something off them. With this genre, it works best when you keep it as factual as possible, which is what my readership wants. They're looking for a bit of an inside track."
However, Ryan is at a loss to explain how bin Laden managed to remain at large for almost a decade after the events of 9/11, living anonymously in a safe house in Abbottabad in rural Pakistan. "The place to hide is right underneath someone's nose," he says. "He was obviously supported by the Pakistani military by being in that compound. He was a very wealthy man and he must have had a lot of discipline to live for so long in what were basically like prison conditions. But he was a driven man and he was very determined as he dedicated his life to his cause. I was convinced he would be found in a cave in Afghanistan or one of al-Qaeda's North African strongholds."
Ryan is also surprised that none of his supporters were tempted to betray him. "It's remarkable that no one sold him out, because there was a big reward on his head. Usually the best way to get a tip-off is through bribery and putting up a reward. It showed how loyal his followers were."
Osama (Hachette $34.99) is out now. Strike Back screens on UKTV on Saturdays at 12.45pm and Prime on Wednesdays at 9.30pm.