Nicky Pellegrino chuckles at author's bird's eye view of reality TV and ad execs.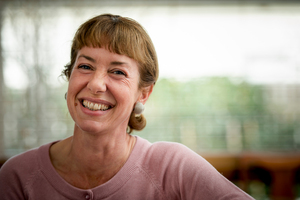 Sometimes all you want from a novel is entertainment, a story to put a smile on your face, with an equal balance of light and dark. Since fiction loves murder, mayhem and misery, this can be surprisingly difficult to find.
Kat Jumps The Shark (Text) by Australian journalist Melinda Houston is all about entertainment. The title references the moment in the US comedy show Happy Days where the Fonz jumped a shark on water skis and the series lost all credibility. This debut novel stretches credibility pretty thinly itself at points, but it's charming enough for that not to really matter. And I suspect its portrayal of the TV and advertising industries, at least, is deadly accurate.
The story is set in Melbourne where Kat Kelly is a location manager working on a hot new TV series Survivor:CBD (the contestants must sleep rough and live on food foraged from dustbins). It's a stressful, high-pressure job but at the end of every day Kat goes home to the beautiful home she shares with her calm, organised boyfriend Miles, and Bonnie, the stepdaughter she adores. Kat is sorted; she tells herself. Why then does she feel so down?
Kat's life starts to unravel: first, her relationship comes apart; then her career follows suit. As she struggles to cope she finds support in an unlikely quarter. Wilson, the barista at her regular coffee shop, who crafts a heart from the froth in her latte, is always on hand to provide a listening ear and a medicinal whisky. So will Kat fall for Wilson or will she be sidetracked by dangerously sexy TV host Dare O'Donnell? There's never much doubt who she'll end up with; however, the predictability of the ending doesn't spoil the fun of getting there.
Houston's style is similar to that of chick-lit queen Marian Keyes. Her prose is easy and chatty, her characters colourfully and affectionately drawn, the story warm-hearted, laugh-out-loud funny in places and shaded more darkly during Kat's bleaker moments.
As she's worked as a TV critic for more than a decade, Houston must have plenty of insider knowledge of the industry. She certainly has heaps of fun at its expense, saving her most gleeful borax-poking for the ridiculousness of advertising business. There's a particularly amusing sequence where Kat is sent in search of the perfect laundry for a TV commercial to be shot in. "This isn't about getting dirty clothes clean ... this is about love," intones the ad executive.
On the chick-lit spectrum this one is up at the smart and sparky end. It's a story that bubbles along yet still has enough depth, a right-this-moment novel with lots of pop culture and celebrity references. Fans of reality TV will enjoy it, as will anyone needing the companionship of a fun and friendly book - one to escape into and relax with.
Kat Jumps The Shark is a very good thing. I think it deserves to be a bestseller.