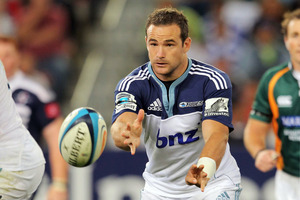 It has been a horrible year for the Blues and an even worse one for Alby Mathewson but the occasional All Black halfback is hopeful he'll be staying in Auckland next year.
There are shattered men throughout the Blues' changing room these days - Friday's win against the Lions hardly lifting the mood.
Few have more reason than Mathewson to stare at their feet and wonder how a season with so much promise has crashed so spectacularly.
This was going to be his year. There was always likely to be a changing of the guard in the national halfback stakes and Mathewson, who earned four caps in 2010, was determined to regain a place in the All Blacks. That's not going to happen now.
Mathewson would be happy enough just to regain a place in the Blues' starting XV.
The No9 jersey was his in the early games - partly because Piri Weepu literally wasn't able to fit into it.
But six weeks in, Mathewson was stuck on the bench.
"Obviously it has been a tough season for the team and it feels like a lot of players haven't found their groove right across the board," says Mathewson. "I am one of them. I had my turn at starting. I wanted to claim the jersey and I haven't done that.
"I guess, as a team, we haven't clicked. We have had issues with injuries, issues with looking after the ball, and we haven't been able to get our game going. Record-wise, losing-wise, it has been the worst year of my career, as it has for most of the boys."
It has been painful to see the confidence and form drained from Mathewson. His clinching try against the Lions was a brief reminder that at his best, he's a halfback who can scorch across the ground and pounce on half chances. His running game can be a lethal weapon but much of this year, he's been a shadow of the player he was in 2010.
He has wondered why that's been the case and hasn't really been able to hit on anything in particular.
The arrival of Weepu would have to be a factor, although it's not one Mathewson would readily admit to. But it's not like Sherlock Holmes is required to solve the mystery.
Mathewson left the Hurricanes because he couldn't get the game time he wanted ahead of Weepu. Once he left Wellington and Weepu behind, he blossomed - earning an All Black call-up and becoming an integral part of a Blues side that reached the play-offs in 2011.
Weepu arrives in 2012 and Mathewson capitulates - seems fairly obvious, although there are other factors behind both Mathewson's and the Blues' demise.
"I am not trying to make excuses but we have been hammered by injuries," he says.
"We lost Jerome [Kaino], [Anthony] Boric and [Isaia] Toeava - key ball carriers. And we haven't always had Kevvie's [Mealamu] leadership.
"Those guys are huge - they are key players. But our expectations were the same as most other people's and we are so disappointed at the way things have gone."
Mathewson is off contract this year, as is Weepu - creating a cat and mouse game.
Mathewson is clear that he wants to stay with the Blues. He has made Auckland his home and doesn't fancy having to shift.
He's in limbo, however, because the Blues are not likely to begin recruitment until they have a new coach in place.
"I really enjoy it up here," he says. "This is the team I play for and I am settled. Obviously game time is the key thing. That's why I came up here and I just want to play. When a new coach comes in, he might have a different idea about the players he wants.
"I don't want to be sitting on the bench. I want to be playing so I guess I have to factor that [Weepu's decision on where he will play next year] into my thinking. In New Zealand, there are not a lot of other opportunities to go to other franchises. They all look pretty well signed up in the halfback spot, which is a tricky situation.
"I guess we will have to wait and see what happens with that situation [Weepu] and that also might come down to what way the new coach sees things."