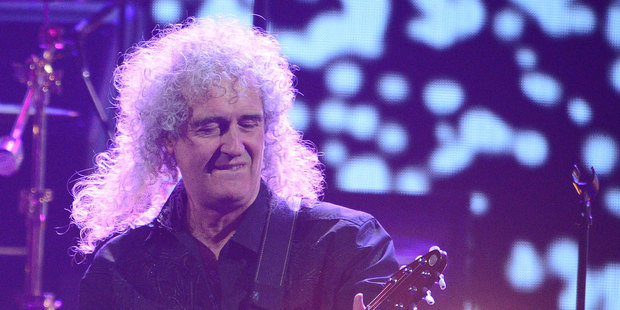 Brian May has explained why Sacha Baron Cohen won't be rocking you in an upcoming Freddie Mercury biopic.
In an interview with Classic Rock magazine, the Queen guitarist said that Cohen's presence in the film would have been "very distracting".
The 41-year-old Borat star walked on the long-gestating biopic back in July, after what was reported to be "creative differences" with the surviving members of Queen.
"The band wanted to make more of a PG movie about Queen while Cohen was counting on a gritty R-rated tell-all centered around the gifted gay singer," Deadline's Nikki Finke wrote at the time.
The warts 'n' all movie, which will focus on Queen's formative years - leading up to their historic performance at the Live Aid charity concert in 1985 - was originally mooted for a 2012 release, but has been hit by a slew of delays.
May, who along with his Queen bandmates have script and director approval on the project, has now expanded on the reasons why Cohen is no longer involved with the movie.
"It's quite difficult to talk about because we owe Sacha a lot," May told the magazine. "He had so much enthusiasm for the project and it really helped us kick it into the start position. But in the end we felt that his presence in the movie would be very distracting."
He added, "What led us to that conclusion was the last three movies that he's made - The Dictator, Les Miserables and Hugo - in which he makes outstanding performances, but they're very much Sacha Baron Cohen performances.
"And we thought there has to be no distraction in the Freddie movie. You have to really suspend that disbelief - the man who plays Freddie, you have to really believe is Freddie. And we didn't [think] that could really happen with Sacha."
May continued, "That's not any criticism of his talent whatsoever, it's just a feeling that it was not going to work - that the pieces didn't fit together anymore."
He added that Cohen, despite reports to the contrary, left the project "on very good terms".
"It's a shame that there were these sensationalist stories about him walking out," he said. "None of that was true. So we're in a very good place with the movie, and we remain friends with Sacha and hopefully there will be another project that we will work on together in the future."
'IT'S GOING TO BE SOMETHING VERY TRUE'
May also said that the movie will be an accurate depiction of Mercury.
"This is something very precious to us. Freddie was someone very important to us and we have to serve him well. We can't do this wrong. It has to be done right. So we've spent time on the script and putting the team together," he shared.
"We're very protective (of Mercury) and we're known for not hiding away from the truth. There's not going to be any pretense about this. It's going to be something very true - as true as we can make it - but also respectful to Freddie as a performer and as a man."
Mercury died on 24 November 1991, from AIDS-related complications. He was 45.
May said the biopic is now in "good shape," and said the team behind the movie is "close" to signing up a replacement for Cohen.
"I can't really say who it is, but I think we're close," he said.
According to NME.com, the band's drummer Roger Taylor let slip during an appearance on BBC1's The One Show on Friday that an actor with the initials "BW" was the frontrunner for the role.
Asked if the actor might be Skyfall star Ben Whishaw, Taylor replied: "Well, we hope so."
The Mail Online later ran a report which appeared to confirm the 33-year-old's casting.
Whishaw, who played James Bond's hi-tech boffin Q in Skyfall, also portrayed Rolling Stones guitarist Keith Richards in 2005 movie Stoned.
There's been no official word on Whishaw's reported casting as yet. A rep for the actor declined to comment to The Wrap.
Daniel Radcliffe was previously rumoured to be attached to the high-profile role.
The Daily Star (say no more) claimed a source told the paper: "Daniel has been told the part is his if he wants it."
But the Harry Potter star swiftly put the kibosh on the rumour.
"There is no truth to it at all," Radcliffe told Empire magazine.
"It's one of those very, very funny things: it came out of a story in the Daily Star and then you see newspapers like the Guardian using the Star as their source, and it grows and grows [until] it's 'Dan Radcliffe is playing Freddie Mercury!', which I was never going to do," he noted.
"Everyone on the internet who I presume is saying I'm totally wrong for that part is correct," he laughed. "I AM completely wrong for that part!"
May has since told The Huffington Post that a director for the movie has now been found. While he mentioned no names, he said the project "is heading towards being a very English movie."
"We're very much in touch with Hollywood studios, but it seems to be coming home to England, which I think is a good thing," he said. "There's a certain spirit to capture here - Freddie's humour, and his particular kind of Englishness is something very special. It needs to be captured with great sensitivity and truth."
Stay tuned for updates, folks.
NOTABLE NUGGETS
And finally ...
* Rihanna asked to leave Abu Dhabi mosque over photo shoot.
* Michael Douglas says he and Catherine Zeta-Jones are "doing great".
* Watch: Arnold Schwarzenegger recites his most memorable movie lines.
* Kelly Clarkson ties the knot! Check out her wedding snaps.
* Lady Gaga has a pop at her critics on Twitter while promoting new tune.
* Kanye West has a bit of a wardrobe malfunction on stage.
* Miley Cyrus responds to degraded VMAs bear dancer on Twitter.
* Listen: Taylor Swift debuts new track Sweeter Than Fiction.
* First look: Reese Witherspoon as Cheryl Strayed in upcoming movie Wild.
* Jason Biggs calls Tara Reid a "hot mess;" Reid fires back.
* Assume the brace position! The devilishly outrageous world-class air goddess that is Pam Ann is finally bringing her show to New Zealand.
- Rumour Has It