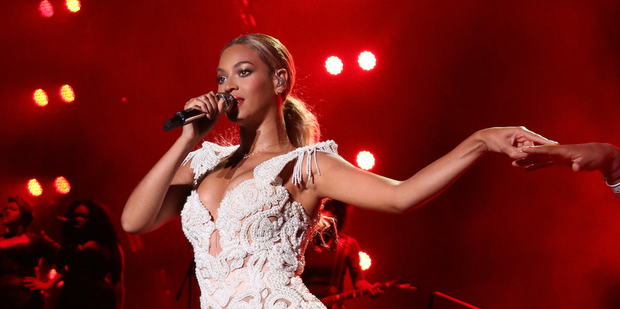 Crazy in love, indeed.
Beyonce had another close encounter with a fan during a recent concert. Only this time with an overzealous concertgoer, not an oscillating breeze-maker of the electrical variety.
The incident went down while the 32-year-old songbird was performing at Morumbi Stadium in Sao Paulo, Brazil, on Sunday, as part of her Mrs. Carter Show World Tour.
Warbling her way through a rendition of 2006 chart-topper Irreplaceable, Beyonce kneeled down to sing to a crowd of fans in the front row, when a shirtless fan put his arms around her and pulled her towards him.
Security swiftly stepped in, and Beyonce was back on her feet and singing in seconds - without missing a beat.
Moments later, as security began to haul the fan from the stage area, Bey shouted: "Hey, hey! It's all right. Calm! Calm! Calm!"
After finishing the song, she sauntered over to the fan, who security had allowed to stay in the venue.
"Nice to meet you. Thank you, I love you, too," Bey can be heard saying in fan footage of the incident.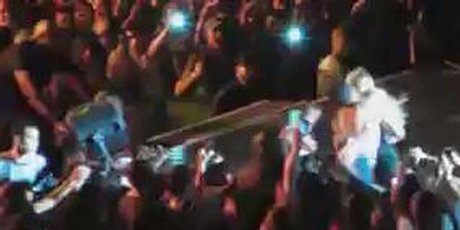 It's not the first time a fan-related incident during the singer's tour has hit the headlines.
In May, the singer was in the middle of singing Irreplaceable during a concert in Copenhagen, Denmark, when a cheeky fan got a bit too grabby and smacked the singer on her backside.
"I will have you escorted out right now, alright?" she told the fan as the crowd cheered.
Two months later, during a stop in Montreal, Beyonce endured another encounter with a fan - albeit a mechanical one.
The singer was in the middle of performing Halo when her hair got tangled in the blades of a rotating fan. A consummate professional, she just kept on belting out the track wile security guards tried to prise her locks from the fan.
And who can forget that time a fan had a total freak out after the diva reached out and grabbed hold of his hand during - yes, you guessed it - another performance of Irreplaceable.
Check out footage of Beyonce being yanked off the stage here. And a nifty close-up of the action here.
NOTABLE NUGGETS
And finally ...
* Britney Spears' rumoured Las Vegas residency is set to earn the singer millions, according to TMZ.
* Hey there, Brad Pitt! Love the new hairdo.
* Watch: Nicole Kidman does her best Grace Kelly impression in the trailer for Olivier Dahan-directed biopic Grace of Monaco.
* It's not over, Shurley? Speculation is rife that Elizabeth Hurley and Shane Warne have split.
* Madonna hints at new album in 2014, says she dreams about Brad Pitt.
* Listen: Katy Perry's new song Dark Horse.
* Elton John apparently thinks queen of twerk Miley Cyrus is a "meltdown waiting to happen". Kick a girl when she's down, why don't you!
* Russell Brand reportedly dating Hugh Grant's ex-girlfriend Jemima Khan.
* Sir Patrick Stewart and wife Sunny Ozell share their wedding photo.
* "It's not true" - Noel Gallagher camp denies 'secret plan' to reunite Oasis.
- Rumour Has It