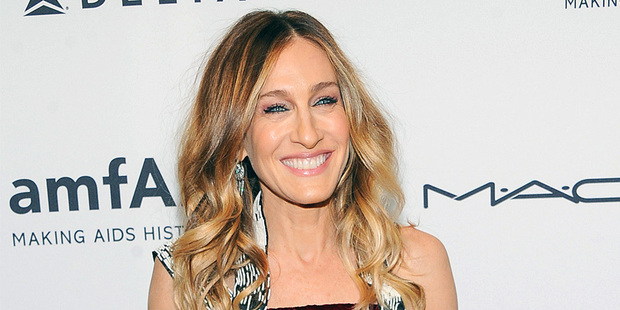 Maybe the celluloid stinker that was Sex and the City 2 hasn't flatlined the franchise after all.
Sarah Jessica Parker lives in hope.
The 48-year-old actress - who played Carrie Bradshaw in both theatrical spin-offs and preceding TV series - isn't quite ready to hang up her Manolos yet, and admits that she's up for a third SATC movie.
"I've been saying ... there is one story left to tell," Parker dished to Extra. "If it is, in fact, the right time and the right place, maybe we should tell it."
"It would be wonderful," Parker remarked on a possible third outing. "It's fun to ponder."
Check out video of Parker discussing her sequel hopes below:
She said something very similar back in 2011.
"I would go back," she told the Los Angeles Times of a proposed Sex and the City 3. "I think there's one more story to tell. I know there is.
"I'd definitely tell that [third] story, and I know Michael [Patrick King] would do it right. But maybe not now. Maybe in five years, you know?" she said.
"It's not that I want to get away from [SATC]. In a million years, who could get away from it?" she said. "It's just that "if I'm not scared again that's not good for me. That's literally no good for me. If I'm not terrified and nauseous and worried the first two weeks of production, then what's going to happen? You could wither on the vine. It's like if you can't use your leg. It just atrophies."
Asked if there was a chance for another sequel, she told Parade the same year, "There is. I know what the story is. It's a small story, but I think it should be told. The question is, what's the right time to tell it?"
Parker then told Access Hollywood that there were no plans to begin work on a third installment anytime soon.
"I don't know of a movie in the imminent, or near, or even distant future," she said, adding, "Honestly, I'm not being cagey. There is no discussion currently of a Sex and the City 3. Do I hold it out in my future in some way as a possibility? Of course."
Fast forward to January 2013, and Parker (per the Mail Online), supposedly "reeling" after her part as feminist icon Gloria Steinem in the porn star biopic Lovelace was left on the cutting room floor, was cranking up the PR machine one again.
"Sarah has talked to the co-creator Michael Patrick King and even has a story line in mind," a so-called "spy" told the website. "She has been openly hinting that she wants another instalment of the film.
"It's no secret that Sarah is in a career crisis right now. After a string of box-office bombs, she is really pushing for the next instalment."
'IT'S OVER. THE FRANCHISE IS DEAD...'
But while Parker is game for a sequel, some of her co-stars might need some convincing.
Chris Noth, who played "Mr Big", famously declared that the franchise is "dead" after SATC2 was slaughtered by critics.
"It's over. The franchise is dead. The press killed it," Noth told New York Magazine.
"Your magazine f***ing killed it. New York Magazine. It's like all the critics got together and said, 'this franchise must die.' Because they all had the exact same review. It's like they didn't see the movie. Got any more gum?"
"I don't see Sex and the City 3 happening," Noth, who stars in The Good Wife, also told Parade magazine. "I'm not disappointed if they don't. I miss the early days before it became sort of a circus of attention, when it hadn't become this iconic thing."
Noth isn't the only star to turn his nose up at another movie.
Cynthia Nixon, who played Miranda in the HBO series and the two subsequent flicks, told The Hollywood Reporter in October that she has no interest in revisiting the character.
"No, no," she said when asked if she was hoping for a third movie. "I think we had a wonderful ride. I think it's fine to let it go."
Kim Cattrall (Samantha) has said she's open to the idea of another outing, but won't spit the dummy if it doesn't happen.
"I feel like I've let go," she told MovieWeb.com. "Whatever happens with those characters...I would love to revisit them. It's like a reunion. It's like going home. Thirteen years of your life? That is a long time to be associated with one show and one character. One family. If it happens, that would be great. But if not? It was an amazing experience."
Kristin Davis (Charlotte), however, is enthusiastic about the idea of a third SATC film.
"I'm always hopeful and I always believe there's another story to tell because these are these women's lives so why wouldn't there be another chapter," she told E! Online in 2011. "[But] I don't know if it will happen."
She added: "I'm not the person who has to decide that, thank goodness. I leave the pressure up to Sarah Jessica and Michael Patrick King."
But the original SATC scribe, Candace Bushnell, doesn't think there will be a third film.
"No. Look, Sarah Jessica Parker is 47. I think with the second movie, Carrie Bradshaw couldn't be an ingénue anymore. But I think they were stuck doing what the audience wanted," Bushnell told The Daily Beast last month.
"Realistically, a middle-aged woman who was married without children would be much more focused on her career and less focused on this Mr. Big: 'Does he love me?' ... "Does he still not love me?" I mean, I think it was coming to the end of what they could do with the character."
Bushnell, who penned the original Sex and the City column for The New York Observer, added: "If it were up to me, the second movie would have been Carrie Bradshaw decides to run for mayor and Samantha helps her. It would get into some real issues of what happens when you're part of a relationship and the woman is ambitious. What does that do to her relationship with Mr. Big? To me, that would be interesting. But they were not going to go there."
The author went on: "In real life, it doesn't seem realistic to me that character would be writing that column for 15 years. It doesn't make sense! To me. But people love the character, and I think they felt they were doing the movies for fans, and they just wanted to give fans what they wanted. Or what they thought the fans wanted."
NOTABLE NUGGETS
And finally ...
* British actor Mark Lester says he's prepared to take a DNA test to prove he fathered Michael Jackson's kids.
* Fashion statement: Reese Witherspoon seems to have made peace with her run-in with the law.
* So there's going to be a Men In Black 4...
* Pink slams critics after show cancellation: "Kindly kiss my entire almost back to healthy a**".
* Amanda Bynes admits to having plastic surgery.
* Beyonce and Jay-Z want more kids; Blue Ivy "needs some company".
* Alec Baldwin's Orphans to end Broadway run early.
* Jennifer Lopez video shoot disrupted after gunshots.
* Justin Timberlake announces tour, release date for second 20/20 album.
* Listen: Chris Brown confirms Rihanna split: "I can't focus on wife-ing someone that young".
Follow Myrddin Gwynedd on Twitter.
- Rumour Has It