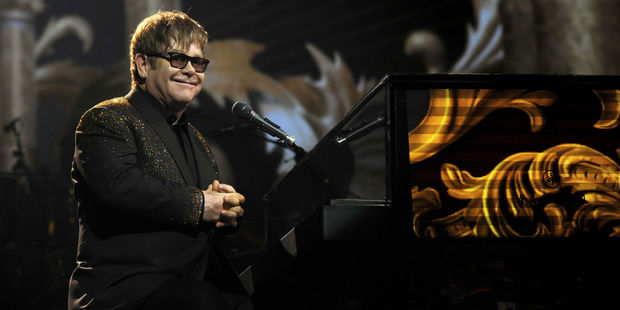 Sir Elton John says his long-standing feud with Madonna is "over and done with."
During a chat with Extra's Terri Seymour, the Rocket Man hitmaker explained that his well-documented public sniping with Madge has come to an end after the pair bumped into each other in a restaurant in France last year.
"We were in a restaurant in France in the summertime. She came in, and I sent over a note. She was very gracious," he said. "I apologised profusely because what I said should never have appeared in public. She accepted our apology, and then we bought her dinner. That's over and done with. She was really great about it."
Chimed his hubby David Furnish: "We don't believe in putting negativity out in the world, both of us were embarrassed when all that stuff came out.
But you've got to put all that behind you and just go forward with the positivity."
John added that Madge was glad to move on, saying: "I have to say, she was fantastic. She was just, 'Okay, let's get a move on'.
"I was very relieved, because she had every right to say 'I don't want to talk...' I said, listen - you have an option of not talking to me again and I completely understand it, and she said 'No, no. I accept your apology. Let's move on.'"
Duelling divas
It's no secret that John and Madonna have been at each other's throats for years.
In 2002, scalpel-tongued John, 66, described Madonna's theme song for 007 movie Die Another Day as "the worst Bond tune ever".
Two years later, he accused the pop matriarch, 54, of lip-syncing during her Re-Invention Tour.
While accepting a trophy at the Q Awards, he sniped: "Madonna, best live act? F**k off. Since when has lip-syncing been live? Sorry about that, but I think everyone who lip-syncs on stage in public when you pay like 75 quid to see them should be shot.
"Thank you very much. That's me off her Christmas card list, but do I give a toss? No."
Madonna's spokesperson released a tongue-firmly-in-cheek statement at the time, saying: "Madonna does not lip-synch nor does she spend her time trashing other artists. She sang every note of her Re-Invention tour live and is not ashamed that she was well paid for her hard work ... Elton John remains on her Christmas card list whether he is nice ... or naughty."
John later spoke to Entertainment Weekly about his comments.
"I don't want to escalate it because I like Madonna," he said. "She's been to my house for dinner. It was something that was said in the heat of the moment, and probably should not have been said."
"Would I apologise to her if I saw her?" said John. "Yeah, because I don't want to hurt any artist's feelings. It was my fault. I instigated the whole thing. But it applies to all those bloody teenage singers."
August 2005, and it appeared as though Madonna still wouldn't forgive John.
"I did send her two Christmas cards and they both came back," he told The Telegraph. "It was just one of those off-the-cuff things. I haven't got Tourette's syndrome but I can't censor myself. Why should I? But let's leave it at that, I don't want it to go any further, for Christ's sake!"
Furnish also waded in on the feud when Madge bagged the Golden Globe for best original song in 2012, beating John's effort in the same category.
"Madonna. Best song???? F**k off!!!" Furnish fumed in a Facebook post, which he later deleted.
"Madonna winning best original song truly shows how these awards have nothing to do with merit," Furnish added.
John then offered Madge some barbed advice ahead of her halftime show at the Super Bowl in 2012: "Make sure you lip-sync good," he snarked.
Then came the mother of all verbal smackdowns.
John was up to his subtle ways again in 2012 when he branded Madonna a "f***ing fairground stripper" whose "career is over" in a TV interview.
Speaking on Australian news and current affairs programme Sunday Night, John said: "Why is she such a nightmare? Sorry, her career is over. Her tour has been a disaster and it couldn't happen to a bigger ****.
"If Madonna had any common sense she would have made a record like Ray of Light and stayed away from the dance stuff and just been a great pop singer and make great pop records, which she does brilliantly.
"But no, she had to go and prove ... she looks like a f***ing fairground stripper. She's been horrible to [Lady] Gaga."
A few weeks later, Madonna responded by announcing that she forgave John for his insults, dedicating a performance of Masterpiece to her detractor - the same song that beat out John's tune for a Golden Globe earlier in the year.
"I know he's a big fan of it," she told fans at a concert in Nice, France. "And I know he's a big fan of mine. And you know? I forgive him. Gotta start somewhere."
Check out video of John discussing the end of the feud below:
NOTABLE NUGGETS
And finally ...
* So a Spice Girl walks into a bar: Geri Halliwell gave an impromptu performance of Spice Girls hit Say You'll Be There before a bunch of bemused punters in a pub last week - after stepping up to a challenge set by former bandmate Mel B.
Halliwell posted a YouTube video on Twitter of her walking into a boozer and belting out a rendition of the 1996 track as a group of bewildered blokes sitting at a table look on.
After Halliwell warbles her way through the chorus, a cheeky punter chimes, "How much do you want?"
Halliwell then turns to the camera and says, "I've done it, Melanie it's your turn!"
It looks like the Spiceys have been challenging each other to a series of dares on Twitter, with Mel B kick-starting proceedings last week when she posted an image of her mooning her LA neighbours after being dared by Mel C.
After checking out the video, Mel B tweeted: "@GeriHalliwell just saw your video, only ginger spice could do this. And that why I love you!!! Xxxxx."
Check out video of Halliwell's performance below:
* Is Harry Styles dating Rod Stewart's daughter Kimberly? "Kim is very strong willed, she goes for what she wants and Harry appreciates that. It is a very new thing and we'll see where it goes. She is exactly his type" - yep, it's a done deal, according to E! Online.
* Lauryn Hill confirms new record deal, slams "inaccurate" reports.
* Listen: Beyonce and Andre 3000's cover of Amy winehouse track Back To Black debuts.
* Selena Gomez cuddles shirtless Justin Bieber in Instagram snap.
* Taylor Swift forks out a whopping US$17 million for new mansion... with old school cash.
* Cory Monteith completes rehab, tweets "big love" to fans for their support.
* Second child on the way for Vince Vaughn.
* Chris Brown's father not happy with Rihanna romance: "I personally really didn't want him and Rihanna back together."
* Johnny Depp to join Meryl Streep in Disney musical?
Follow Myrddin Gwynedd on Twitter.
- Rumour Has It