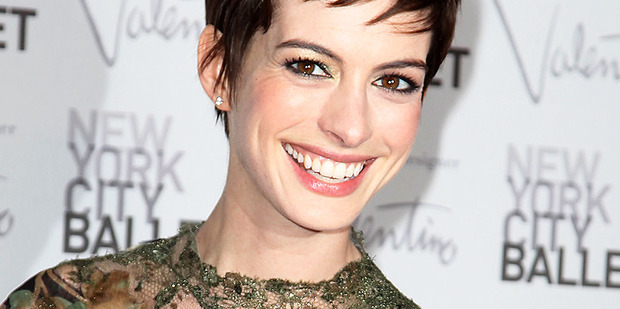 It's official: Anne Hathaway is married!
The Dark Knight Rises star, 29, tied the knot with longtime love Adam Shulman, 31, on Saturday night in Big Sur, California, according to People magazine.
The pair, who got engaged in November, 2011 after dating for three years, celebrated with more than 100 family and friends at a secluded private estate in the coastal town.
The wedding weekend kicked off on Friday night with a rehearsal dinner at Ventana Inn and Spa, the magazine reported, followed by the ceremony itself in a private marquee at sunset on Saturday.
The nuptials reportedly had a nature theme, with branches used to decorate the ceremony and reception.
Hathaway wore an off-the-shoulder gown designed by "very good friend" Valentino Garavani. The designer confirmed she would be a Valentino bride last week.
"She's a very good friend of mine," Garavani told E! News. "She's like my daughter."
"She's sensational. She's fantastic," he added. "She's a girl that ... She deserves what she has in this life. [That] means, she's already a great star. But she's going to be a great, great, great, great thousand times great star. She has all the qualities."
Click on over to Just Jared for a sneaky peek at the blushing bride and her dapper hubby in their wedding garb.
The location of the nuptials was kept secret from the guests, Celebuzz reports, adding that they they had to wear bracelets to gain access to the buses that would shuttle them to the venue.
Hathaway reportedly enlisted Yifat Oren to plan the nuptials - the same person who helped Natalie Portman plan her wedding to Benjamin Millipied earlier this year.
The actress previously said she planned to get married sometime next year.
She told Britain's Hello! magazine: "We're getting married, probably sometime next year-ish. Not this year, its too big with two films coming out.
"I haven't started planning yet. I was filming Les Mis when we decided to do it, and there was no way I could think about anything wedding-related with my head in the space it was in then. I've been so busy since then, I've not even decided what sort of ceremony I want."
The Les Miserables star began dating Shulman, an actor and jewellery designer, in late 2008 after meeting through mutual friends.
"I am very much in love with him, (only) Adam totally ruined my plan," Hathaway said last year of their relationship. "I was really actually looking forward to a little alone time, and then I fell in love like a fool!"
It was recently announced that Hathaway will showcase her singing chops by performing songs from the musical Cabaret in a one-off benefit concert in New York.
Congratulations to the newlyweds!
FAST GOSSIP
And finally...
* Arnold Schwarzenegger: I had "hot affair" with Brigitte Nielsen.
* Fifty Shades of Grey author weighs in on Ryan Gosling's (rumoured) casting.
* Happy Days star Erin Moran is reportedly broke, homeless.
* Andrew Garfield signs up for Spider-Man sequel.
* Danish Magazine denies publishing "bottomless" pics of Kate Middleton.
* Miley Cyrus in talks for Bonnie & Clyde miniseries, fiance wants her to quit Twitter?
* A Downton Abbey prequel is in the works.
* Britney's ex-'manager' claims he found crystal meth in the star's home.
* Rumour control: Tom Cruise and Cameron Diaz are not dating.
* Check out the new trailer for Paranormal Activity 4.
Follow Myrddin Gwynedd on Twitter.
- Rumour Has It