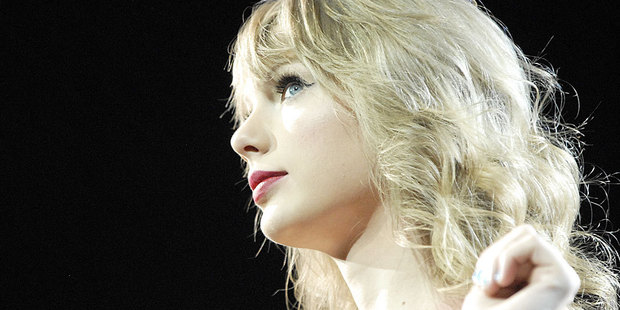 Taylor Swift, wedding crasher?
The chart-topping country songbird and her boyfriend Conor Kennedy - the elder son of Robert F Kennedy Jr - have been accused of crashing a Kennedy family wedding over the weekend, despite a request for them to steer clear.
Swift, 22, and Conor, 18, rocked up to his cousin Kyle Kennedy's wedding to Liam Kerr at the swanky Fairmont Copley Plaza hotel in Boston on Saturday - much to the chagrin of the mother of the bride, Victoria Gifford Kennedy.
Gifford Kennedy told the Boston Herald newspaper that Conor was invited to the wedding but never RSVP'd.
"They texted me an hour before the wedding and asked if they could come," she said.
"I responded with a very clear, 'Please do not come'. They came anyway. I personally went up to Ms Swift, whose entrance distracted the entire event, politely introduced myself to her, and asked her as nicely as I could to leave.
"It was like talking to a ghost. She seemed to look right past me."
She told the paper that she said no to the Grammy award-winning singer because she didn't want Swift distracting from her daughter's big day.
But Swift and Conor showed up at the hotel, and allegedly caused a mild commotion in the lobby with fans asking for pictures and autographs.
The mother of the bride said the duo left the reception during dinner, and then returned after the meal where they spent the rest of the night dancing at the reception.
'This is my daughter's day ...'
TV hostess Kathie Lee Gifford also confirmed reports that the duo crashed the nuptials.
"Why can't I stay out of trouble? I was just a guest at that wedding. [Kyle] is actually my granddaughter by marriage," said Lee Gifford, who is stepmother to the mother of the bride Gifford Kennedy, on the Today show.
"The truth is, because I was there, Vicki's account is accurate," she explained, confirming that the Speak Now singer and Conor were asked to leave "twice".
"She didn't know if he [Conor] was coming or not. She heard that he might be, but he got in touch with her an hour earlier, and said, basically, 'Can I bring my girlfriend?'" Gifford said. "She said very nicely, 'please do not come.' Guess what? They came."
She added: "It's the bride's day, and that was Vicki's other concern. 'This is my daughter's day and I would appreciate it if you would not come.'"
Check out Lee Gifford's take on events below:
Visit NBCNews.com for breaking news, world news, and news about the economy
But here's the rub. Swift's rep, Paula Erickson, has called cobblers on the reported wedding flap.
"There is no truth to that," she said. "Taylor was invited to the wedding and the bride thanked her profusely for being there."
Swift, who has been dating Conor for the past two months, was also snapped packing on the PDA with her new man over the weekend.
The singer was spied smooching during some loved-up downtime in Massachusetts on Saturday.
See more photos of Swift and Conor together here.
The day after the vow-swapping, Swift accompanied her boyfriend as he visited his mother's grave site on Cape Cod.
They were joined by several members of the Kennedy family, including Conor's brother and sister, as they paid their respects to Mary Richardson Kennedy, who died in May.
Wedding crashing aside, Swift appears to have won over other members of the Kennedy clan.
Kennedy matriarch Ethel Kennedy gave her approval of her grandson Conor's relationship with the singer during the Television Critics Association panel in Beverly Hills earlier this month.
Asked what she thought about the possibility of Swift joining the Kennedy family, she replied: "We should be so lucky!"
Conor's aunt Rory Kennedy also gave Swift the thumbs up.
"She's awesome," Rory said. "She's a great friend of all of ours."
In other Swift news...
The singer has scored her first ever No. 1 on Billboard's Hot 100 with her breakup anthem We Are Never Ever Getting Back Together, which set a single week record for downloads for a female artist with 623,000 digital sales.
Check out Swift's lyric video for We Are Never Ever Getting Back Together below:
Fast gossip
And finally...
* Who's Mel Gibson's lucky new lady?
* Kim Kardashian denies having threesome with porn star. (No mind bleach required. Link is sans sordid visuals, folks).
* Is Britney Spears and Jason Trawick's wedding all off?
* Check out Avril Lavigne's engagement bling.
* Tony Scott funeral plans and memorial announced.
* Lindsay Lohan hits back at press "lies": "I'm doing great".
* Alanis Morissette reveals she's a fan of paparazzi.
* Adam Lambert covers Bob Marley's Is This Love.
* Liberty Ross hits red carpet post-Kristen Stewart cheating scandal - without wedding ring.
* Cher denies she's set to be a biker bride.
* Nicole Kidman gets bold and bootylicious on cover of V mag.
* Hugh Hefner writes impassioned letter in support of gay marriage.

Follow Myrddin Gwynedd on Twitter.
- Blogger Bites Back