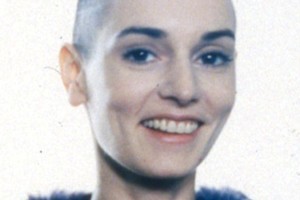 And it's all back on, folks: Sinead O'Connor has revealed she is back with her "cave man" husband, just days after announcing plans to divorce.
The Nothing Compares 2 U singer, 45, announced last week that she was divorcing her fourth husband Barry Herridge just 18 days after getting hitched on December 8.
The pair tied the knot in the back of a pink Cadillac at the Little White Wedding Chapel (the same spot where Britney Spears and Jason Alexander tied the knot in 2004) on the same day as her 45th birthday.
O'Connor said she was calling an end to her fourth marriage because it was like "living in a coffin".
She claimed "intense pressure" from Herridge's family had contributed to their split, and that the marriage ran into trouble when she took her drugs counsellor husband on a hunt for cannabis around Vegas.
"We ended up in a cab in some place that was quite dangerous," she told The Sun. "I wasn't scared - but he's a drugs counsellor. What was I thinking?
"Then I was handed a load of crack. Barry was very frightened - that kind of messed everything up a bit really."
She added: "It felt like I was living in a coffin. It was going to be a coffin for both of us and I saw him crushed. The whole reason I ended it was out of respect and love for the man."
But the rollercoaster romance is back on track. For today at least.
O'Connor announced they have reconciled, and apparently called off the divorce, in a series of eyebrow-raising, typo-ridden missives on Twitter.
She dished that the pair had reunited after her "caveman" had come home to "claim" her.
Alrighty then.
"Spent beautiful evening of love making with [none] other than husband! Who turned up angelically we decided to be boyfriend and girlfriend," O'Connor tweeted.
"Guess who had a mad love making affair with her own husband last night?" she over-shared, adding, "Yay!! we decided to be boyfriend and girlfriend again an stay married". (sic)
She also admitted they rushed their relationship.
"But we did rush so we gonna return to b friend g friend...an be sickenly happy an go counsellin an move in like a yr like regular people.
"But stay married an we all in love an f**k every other motherf**ker who don't like it.. so me all happy!! me love me hubby.. he love me... f**k who no like it.. God is good!"
She later added: "Yay!!! me husband is a big hairy cave man an came to claim me with his club : ) and now im in cave-land.. yay!! we both go panto!"
O'Connor and Herridge met in September last year after she made public her quest to find a "very sweet sex-starved man" who was ideally "extremely sweet, kind, very respectful, considerate but absolutely FILTHY minded."
The singer was previously married to music producer John Reynold, journalist Nicholas Sommerlad and musician Steve Cooney.
- Blogger Bites Back