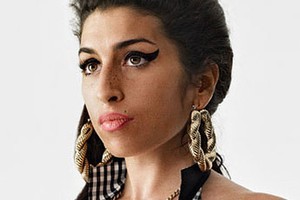 Two previously-unheard tracks from Amy Winehouse's posthumous album have hit the net.
The songs, Our Day Will Come and Like Smoke, feature on the late soul singer's Lioness: Hidden Treasures CD, an album of previously unreleased tracks, covers and alternate versions of some of her signature classics.
Our Day Will Come, recorded in May 2002, is a reggae take on Ruby & The Romantics' 1960s hit, while Like Smoke is a collaboration with rapper Nas which was recorded in 2008. Both tracks aired on BBC's Radio 1 this week, ahead of the album's release on December 5.
The 12-track album was put together by Winehouse's long-term collaborators, Salaam Remi and Mark Ronson, and approved by her family.
A selection of tracks from the album was revealed to a handful of journalists this week, including NME's Dan Martin.
He wrote of Our Day Will Come: "Reworking a 60s doo wop classic with a shimmering vocal and a swooning lilt, this is perhaps more the real Amy than the one that the circus would have us remember. It's a nicer one to remember."
Check out his take on the previewed tracks here.
Listen to Like Smoke here and check out Our Day Will Come below:
Amy+Winehouse+-+Our+Day+Will+Come by populermuziginrenkleri
What do you think of the new Winehouse songs?
- Blogger Bites Back