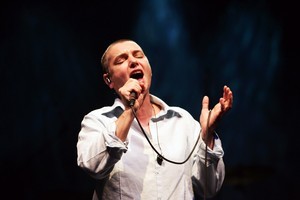 Irish singer Sinead O'Connor is a woman on a mission - for sex.
So frustrated is O'Connor with the distinct lack of action in her bedroom, she's taken her cause to the Internet in a bid to find an obliging and suitable bedfellow.
In a series of eyebrow-raising posts on her official blog, the 'Nothing Compares 2 U' chanteuse, 44, has made public her lack of between-the-sheets action, and quest to find "a very sweet sex-starved man."
In a rambling piece written earlier this month, titled "Is Sinead About To Hump Her Truck?", O'Connor writes: "I recently read of a woman in America who married and regularly humps her truck. I don't yet own a truck but I'm beginning to understand her head space. And am worried I too may be so desperate for sex that within days I might run up the road and hump Bray Cab's whole fleet in one hour."
Explaining her dire situation further, the thrice-married singer adds: "My sh*t-uation sexually/affectionately speaking is so dire that inanimate objects are starting to look good as are inappropriate and/or unavailable men and/or inappropriate and/or unavailable fruits and vegetables.
I tell you yams are looking like the winners."
That's put me right off my salad.
She continues: "Needless to say what I do for a living makes it hard for me to find men that only want me cuz they like my (legendary) arse. Yet I am in the peak of my sexual prime and way too lovely to be living like a nun. and it's VERY depressing."
But while she's declared open season on her sex life, O'Connor, who announced she was a lesbian in 2000 (and later clarified the statement to Entertainment Weekly in 2005), stipulates a series of deal-breakers.
Note to applicants:
"He must be no younger than 44.
"Must be living in Ireland but I don't care if he is from the planet Zog.
"Must not be named Brian or Nigel.
"Must be blind enough to think I'm gorgeous.
"Has to be employed. Am not fussy in what capacity generally but vehicle clampers need not apply.
"Leather trouser- wearing gardai, fire-men, rugby players, and Robert Downey-Junior will be given special consideration. As will literally anyone who applies."
Oh, and some very important stipulations:
"I like me a hairy man so buffed and/or waxed need not apply.
"No hair gel.
"No hair dryer use.
"No hair dye."
Also, ladies should not feel left out.
"I've had reasonable complaints from lesbians that they have been excluded," writes O'Connor. "This was terribly remiss of me and I would now like to make it clear that women will also be very much considered."
She signs off with, "I must end now as I have a hot date with a banana."
O'Connor briefly called off her search, claiming to have found her elusive mate.
She wrote: "Search called off for now. Suitable man found.
"Filled by an extremely sweet, kind, very respectful, considerate but absolutely FILTHY minded, un-inhibited RUDE sex maniac named John. and no.. I don't mean John Waters (ex partner and father to her daughter Brigidine)."
But the search was back on when she discovered that John had a pregnant girlfriend. Total deal-breaker. But she hasn't given up hope, and is still taking applications.
"ALL applicants will receive replies but since there are literally hundreds of applicants, it may take a few weeks for me to respond to each one," she adds.
But note, you "must have sweet heart and filthy mind."
All applications are apparently being vetted by her (no doubt very busy) assistant.
Click on over to her official blog and Twitter account for way, way TMI.
Royal raver
Playboy Prince Harry has been a busy lad showing off his decidedly ropey dance moves while living it large at one of Europe's leading open-air nightclubs in Croatia.
Wills' little brother jetted off for a weekend break on Croatia's trendy Hvar island, and the 26-year-old threw himself into the party spirit.
The barefoot royal was spotted strutting his stuff poolside at the Veneranda Club, when he lost his balance and plunged into the venue's swimming pool.
"Harry was dancing around with his arms in the air. He was having a great time and seemed pretty tipsy," an onlooker told The Sun.
"Suddenly he just jumped into the pool and one of his friends jumped in after him. Everyone thought it was really funny and Harry was laughing his head off. He was soaked to the skin but he didn't care. He loved being the center of attention."
Said another: "Harry's dancing wasn't great. In fact it was embarrassing. But once they realized who he was, everyone wanted to have a photo with him."
Watch a wet 'n' wild Harry breaking it down in the clip below:
Little monster
Lady Gaga was so committed to playing her male alter-ego Jo Calderone at the MTV Video Music Awards in L.A. on Sunday, she reportedly donned a prosthetic penis to complete her gender-bending get-up.
The singer donned a man's suit, slapped on some facial hair, and whipped her hair like a teddy boy for the bizarre appearance.
And to complete the transformation, a spy tells Us Weekly that Gaga, who remained in character all night, packed her fake package in Armani underwear, no less.
Talk about staying in character!
And while many were confounded by Gaga's alter ego portrayal, others were quick to scream "rip off!"
Gaga has once again been accused of copycat antics... by none other than Kelly Osbourne.
Osbourne was glued to the box and tweeting up a storm during the VMAs, when she detected a distinct air of familiarity about Gaga's blokey act.
"I love lady gaga but i wish she would start giving credit where credit is due! Example..." she tweeted, and linked to Annie Lennox's performance of 'Sweet Dreams' at the Grammy Awards in 1984.
Meh.
Blogger's Briefs
This juicy lot just in...
* Iron baby on board: Robert Downey Jr.'s wife Susan is preggers
* Mel Gibson settles money, custody issues with ex-girlfriend
* Marc Anthony breaks silence on Jennifer Lopez split
* Bus driver files assault complaint against Matthew Fox
* Tom Jones released from hospital
* Ryan Reynolds adopting Sandra Bullock's baby?
* Leonardo DiCaprio and Blake Lively go wild Down Under
* Ooh, give us a kiss! Sarah Jessica Parker fends off some unwanted attention from an overzealous fan while promoting her new film, I Don't Know How She Does It, in Moscow this week.
Picture the scene: SJP mingles with a gaggle of fans, including her bodyguard, Oleg Donstov, outside the city's Bolshoi Theatre, while happily posing for some snappy souvenirs.
After signing her bodyguard's chest with a pen, he leans in, puckers up, and tries to smack one on her kisser!
Catch the action (complete with SJP's girlie squeal) below:
Donstov now fears that the near pucker-up could cost him his job, and land him in strife with his wife.
He told the Daily Record : "I shouldn't have done that as a professional but I couldn't believe Sarah Jessica Parker was there, that close to me.
"Home life could be even more difficult but I'll try to buy some roses and smooth things over."
I think he'll find his supper's in the dog this evening.
Paging Matthew Broderick...
Blogger Bites Back