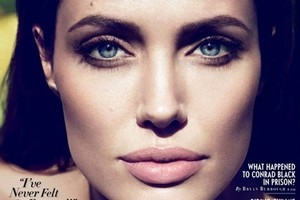 Don't believe the hype: Screen siren Angelina Jolie turns gossip cop and debunks a string of persistent rumours about her personal life in the new issue of Vanity Fair.
The 36-year-old Oscar-winning actress sat down with the mag to promote her directorial and screenwriting debut, In the Land of Blood and Honey, and (for the umpteenth time) nuked a bevy of tabloid tattle about her and longtime love Brad Pitt, 47.
Prey tell, Jolie, is there really a secret wedding on the boil for you and lovely Pitt?
Since hooking up on the set of Mr & Mrs Smith in 2005, persistent rumours dictate that Brangelina will be trotting down the aisle and getting hitched.
The couple has previously said that they won't tie the knot until everyone, whether gay or straight, can get hitched.
"Angie and I will consider tying the knot when everyone else in the country who wants to be married is legally able," Pitt told Esquire magazine in 2006.
Talk of an impending wedding re-surfaced in June, courtesy of scandal sheet Us Weekly. The mag boomed, quoting three separate sources, that the pair would get hitched "within the next few months".
Total tosh, says Jolie. Wedding bells aren't a-ringin' for the Hollywood power couple. Time to mothball those fancy hats and party frocks, folks.
The Salt star tells the October issue of Vanity Fair that there is "no secret wedding" in the works.
She also added: "I'm not pregnant. I'm not adopting at the moment."
Jolie and Pitt have a brood of six kids (three biological, three adopted): Maddox, 9, Pax, 7, Zahara, 6, Shiloh, 5, and twins Vivienne and Knox, 3.
The typically confident actress also reveals that she's nervous about her behind-the-camera debut - a love story set against the Bosnian Civil War of the 1990s.
"I've never felt more exposed. My whole career, I've hidden behind other people's words. Now it's me talking. You feel ridiculous when you get something wrong," she said.
Jolie also admits that Pitt has been "so supportive" while she made the film.
"He'd come in and say what he liked or what he didn't understand. Like any woman, I would listen to most of it and fight a few things. He's been so supportive. But it's hard to separate the person that loves you from the critic, so I don't think he's a fair judge," she confessed.
Jolie admits she penned the script while wrestling with a bout of flu, locked away in the attic of the couple's French mansion. Oh, the tortured genius!
"I had the flu," she said. "I had to be quarantined from the children for two days. I was in the attic of a house in France. I was isolated, pacing. I don't watch TV and I wasn't reading anything. So I started writing. I went from the beginning to the end. I didn't know any other way."
She then offered the script to Pitt to read, who gave it the thumbs-up.
"He took it on a trip," she said. "He then called me and said, 'You know, honey, it's not that bad.'"
Pitt also thinks the experience will change the way she approaches acting.
"Brad thinks I'm going to be a nightmare," she joked. "I had such a good experience he thinks I'm going to be impatient with directors, which I already am. I get impatient with people working on a film that have their head in their hands like it's the most complicated thing in the world."
She also says she's ready for the inevitable scrutiny the movie will face.
"People will judge for themselves. I think if you make a good movie people walk away arguing," she concluded.
In the Land of Blood and Honey is slated for a December 23 release.
For more from the interview, click on over to Vanity Fair
Goldenballs meets...
Caption this: A buff, tanned and toned David Beckham has a brief encounter with a portly, Speedos-clad bloke who proudly displays his coin slot while frolicking in the Pacific off Malibu, California on Monday.
Nice budgie smugglers, dude.
Giving it lip
Transformers siren Rosie Huntington-Whiteley has a thing about her lips.
The actress-cum-model, 24, says her kissers change colour, depending on her state of mind. Mood lips. How fabulous.
She tells Now magazine: "They're funny, because they change colour with my mood.
"They get really, really red when I'm angry or passionate and pale when I'm miserable or tired.
"They have a life of their own."
Turn it down
All eyes are on a leaked snippet of newlywed Kim Kardashian's music video for her single 'Jam (Turn It Up)'.
Cast your minds back to March and you may recall that aspiring pop marvel 'KK' debuted her lackluster single, 'Jam (Turn It Up)'. Turns out the track in question was accompanied by a rather racy music video, which was never released. Feast your eyes and assault your lugholes with this 55-second snippet of KK in all her lip gloss-laden, booty glory, and you'll understand why.
I want my 55 seconds back, too.
Hilary banks
Pregnant actress Hilary Duff may have been axed from the role of Bonnie Elizabeth Parker in the forthcoming remake of Bonnie and Clyde, but she's scored herself a nice airbag to soften the blow.
Word is Duff was unceremoniously dropped from the project after announcing her pregnancy earlier this month.
TMZ reports that, thanks to a clause in her contract, she's now been given a severance deal worth $100,000 as compensation.
The website reports that there was a clause in the actress' contract that stipulated she be awarded with a six-figure sum should she be given the boot.
Duff said of the news: "I don't wanna give them any more press than they've already gotten off me... I think [my] baby is a little bit more exciting."
A replacement has yet to be cast. Amanda Seyfried was approached, but turned it down, reports TMZ.
Duff's casting in the remake was derided by the original star, Faye Dunaway.
"Couldn't they at least cast a real actress?" barked Dunaway in 2009.
Duff hit back: "I think that my fans that are going to go see the movie don't even know who she is, so you know ... I think it was a little unnecessary but I might be mad if I looked like that now too."
No prizes for guessing who's cackling in her corn flakes as I type...
Hot Hoff
The budding romance between David Hasselhoff and new Welsh gal, Hayley Roberts, is going from strength to strength.
The former Baywatch star and Roberts have been a hot item since she auditioned for the UK talent show last year.
Despite having initial reservations about the age-difference (he's 59, she's 31), Roberts tells Star magazine that she eventually bit the bullet and fell for The Hoff - and all because he looked hot in the tub.
"I was unsure because of the age difference, but then we got chatting. I thought he had lovely blue eyes," She said.
"I texted him and said: 'I can't see you again', but then I felt gutted and thought age shouldn't matter.
"The next thing I knew, he sent me a text asking me to go to Switzerland with him!
"And then we were in Switzerland in the hot tub and his hair was all wet and I looked at him and thought: 'Wow, you're really hot!'"
And the feeling's mutual. Read more about the Hasselhoff-Roberts love-in over at the Daily Mail.
Bike on?
Could it really be that former lovebirds Jessica Biel and Justin Timberlake are back together?
Beady-eyed sources say the pair, who split in March this year after four years together, spent some quality time together over brunch in a Toronto cafe over the weekend.
Bile is filming the Total Recall reboot in the city.
The source tells Life and Style mag: "They seemed so comfortable, happy and at ease (and) they literally couldn't stop staring and smiling at each other. Justin seemed completely smitten with Jessica, and she had this permanent smile on her face, and they joked around with each other."
Another spy tells the New York Post: "They were there for about 45 minutes. They were in baseball caps and sunglasses, but everyone recognised them. Everyone acted very Canadian and left them alone."
The pair was also spotted cycling together in the Great White North, but a source tells E! Online that the spectacle means "nothing official" is going on between the exes.
Consider this blogger's cynical eyebrow well and truly raised. These two could well be on again and taking a lap of honour on the romance circuit. They've been on-again, off-again, on-again, off-again, on-again, off-again more than your average kitchen appliance.
The pair was romantically linked last month. A snitch told Us Weekly that Timberlake and Biel are "seeing each other again" but are attempting to "[take] things slowly".
The spy added: "They have been talking the whole time [since their break-up] and decided to give it another shot. Jessica really wanted to get back together with him and Justin realised single life is not what it's cracked up to be."
Biel's rep had no comment, neither did Timberlake's.
Blogger Bites Back