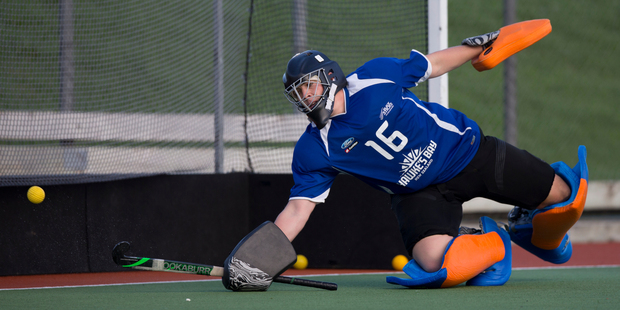 Who'd be a soccer goalkeeper? One booboo and you're up for a hiding, plus the physical bangs that go with the role.
What about the same role in hockey? Sure there's padding on a Michelin Man scale, but even so ...
"I don't know if it was the appeal or stupidity," New Zealand goalkeeper Hamish McGregor mused on why he took the job on at high school.
"I thought it was quite cool, something different, a bit of a challenge I suppose."
And so Christchurch-born, Hobart-educated and raised McGregor is off to Europe tomorrow with the men's national team for their World League 3, or semifinal, tournament in Rotterdam this month.
McGregor and Auckland's Devon Manchester share the last line of defence for New Zealand.
In McGregor's case, his father played hockey. He headed down the soccer route originally but once at high school "they were looking for a hockey goalkeeper, I thought it could be fun, so I whacked the pads on and apparently I was quite good at it".
Even with all the protective padding, McGregor admitted the idea of copping a bad blow occasionally flickers across the mind.
He's been lucky, no bad injuries, but plenty of bruises.
"That's part of goalkeeping. I had a stick broken across my knee. I thought I'd broken it."
When attackers are pinging the ball at upwards of 115km/h from close range the dangers are obvious. So is there an optimum build for a goalkeeper in that small net area? The net is significantly smaller than for soccer, so plenty of bulk perhaps?
"It's a hard one. I'm about 1.87m, and up towards 100kg. The Dutch guy, who people rate the best in the world, is about 1.93m. Devon is slightly smaller, shorter but a lot more agile. With size comes a lack of agility, but it also brings a bigger reach.
"It's about a balance of height and weight versus agility and speed."
Having whip sharp reactions is also crucial.
So who has the edge in a penalty shot situation? In soccer, the penalty taker is expected to score. Ditto in hockey, reckons McGregor, although he likes the keeper's odds better in the new penalty shootout format used to decide knockout games at big tournaments.
The attacker has eight seconds to run, dribble and net the ball.
"One-on-one with the keeper I'd say it's a lot more even. You can vary it, move around, do different things to make it more even.
"Trying not to get eliminated is the key to those situations. Once you put your body on the ground it's very difficult to get back up.
"The key is to stay on your feet and make the attacker try and do something like take the shot quickly, or rush them to do something they don't want to do."
Shootouts are relatively rare, although the New Zealand women's team had one in their Olympic semifinal against the Netherlands in London last year. Locked 2-2, the Dutch won the shootout 3-1.
McGregor or Manchester could face one in Rotterdam and they'll be ready.
The pair have played 14 and 12 internationals respectively _ McGregor, at 25 is two years older _ and are still dicing for top billing. Auckland-based McGregor, studying for his Inshore Launch Masters ticket and most at home on the water, is happy as long as the team benefits. "Personally it's more about the team. It's quite good to have that slight rotation thing.
"It keeps you honest, and makes you strike to want to keep playing, pushing each other, nipping at the heels."
What's happening
• The New Zealand women's squad leaves for the World League 3 tournament in Rotterdam today, with the men flying out tomorrow.
• The women have three warm-up internationals against England next week; the men have two against Spain, most likely in Madrid.
• The top three in each eight-team tournament qualify for the finals _ for the women that's Tucuman, Argentina, in December; for the men it's Delhi in January.