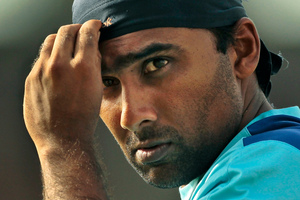 It's no fun dwelling overly long on New Zealand's test record of late.
There are any number of depressing activities available these days. Reading New Zealand's recent test statistics is one.
So when captain Ross Taylor talked this week about having "an opportunity to create some history" in Galle starting tonight, it sounded long on optimism, short on hard evidence to suggest going into the first test with real confidence about the task ahead.
Since beating England in Hamilton with a cracking performance in early 2008, New Zealand have played 38 tests, lost 20 of them and won only six, of which four, with due respect, were against Bangladesh and Zimbabwe.
Only Pakistan in Dunedin in 2009 and Australia at Hobart last December were wins against major test nations. That's wretched reading. Both previous tests in Galle have been lost heavily.
But wait, there's more. Since playing in Australia late in 2008, New Zealand have had 14 overseas tests and lost 10 of them, the only wins coming in Hobart and Bulawayo.
Things may well get worse before they improve. Two tests in South Africa are coming up in the New Year; three at home to England, and then back to the Mother Country for two more next May.
Sri Lanka have won 11 and drawn four of their 20 tests at the Galle International Stadium.
Still, chins up. The Sri Lankan team, although containing some reasons to be on guard, also offer the prospect of, at the least, being competitive.
For a start there's no Muttiah Muralitharan any more. In 15 tests at Galle, the one-off offspinner took a whopping 111 wickets. But there is, in captain Mahela Jayawardene, a batsman who could have designed the pitch block for himself.
Few players bat with the style and panache of the 35-year-old; no one comes close to his 2193 test runs there, at an average of 75, in 20 matches.
Throw in familiar figures and proven run-makers in Kumar Sangakkara, Tillakaratne Dilshan and Thilan Samaraweera, and Sri Lanka have class batting acts.
Rangana Herath has proved an awkward left arm spinner in the past and there's a bright prospect in 19-year-old offspinner Tharindu Kaushal, in for his first test experience.
Sri Lanka have decent seamers too, but there's a feeling that if New Zealand can get among the key figures, there is a softish underbelly to the home side. This, of course, pre-supposes that New Zealand bowl thoughtfully, mixing economy with penetration, and bat sensibly and with an offensive mindset.
In the back-to-back losses in India in September, there were some encouraging aspects.
Taylor hit a century; Tim Southee grabbed seven wickets in one innings; offspinner Jeetan Patel did well and wicketkeeper Kruger van Wyk had his best test as a batsman.
Taylor suggested Sri Lanka's bowling could be vulnerable - not something which would have been uttered in Muralitharan's heyday - and believes the new ball might be crucial, "asking some questions" as he put it.
The seam trio of Southee, left armer Trent Boult and Doug Bracewell, backed up by Patel, were used in the most recent test and, assuming all are fit, would be favoured to retain their places. A middle order of Kane Williamson, Taylor, Daniel Flynn and James Franklin, below openers Martin Guptill and Brendon McCullum, seems probable.
"We've still got to play well ourselves and concentrate on what we can do. It's about doing the basics and hopefully put some pressure on their team."

Sri Lanka v NZ First test, Galle, 5.30pm today