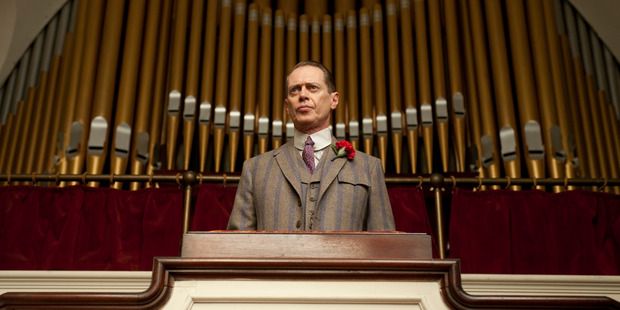 An early review of Boardwalk Empire in The New Yorker nearly put me off.
It was basically saying the show was okay but not a work of art like The Sopranos.
Boardwalk Empire creator Terence Winter co-wrote some 25 episodes of the mafia saga but his work here is not appreciated by the reviewer, who said: "The imitation lacks the brilliance of the original."
Which is probably true, though picking future greatness from the first series is a tricky business, as is lumbering a writer with the millstone of past success.
No doubt he'll use some of the tricks from his bag. Hitchcock certainly had no problem with that.
Three seasons in, the show has delivered plenty of delights: solid characters and dramatic stories infused with carefully curated period music and costumes.
Then there's the ornate (CGI assisted) recreation of the Boardwalk itself - now in tatters post Sandy.
And like the aforementioned Soprano's there's plenty of humour, usually delivered via the sarcastic tongue of Nucky Thompson (Steve Buscemi).
The show practically invites you to pour yourself a champagne or scotch and settle into a sofa to soak it all up.
It's a warm bath of escapism but it possesses shocks and barbs too.
It's certainly a box-set to add to the list if you're yet to catch it on Soho or Prime.
A recent memorable scene between Nucky's wife, Margaret (Kelly MacDonald) and a woman in hospital reminded us that like Madmen and The Sopranos, Boardwalk Empire will happily have a go at tackling big issues, and that sexual equality is the enduring elephant in the room.
The scene was a small but perfectly formed thing, a meeting in hospital between Margaret and a woman who had recently miscarried, in living colour, all over the floor.
It's not easy to stage a miscarriage for the edification of viewers and make it more than merely shocking.
Like the best moments in historical dramas, the scene seemed to unfold a piece of history before our eyes.
It gave insight about the complexity of making cultural changes given the sexual and class politics of time.
Margaret was trying to help a woman of a lower class than her, who was naturally suspicious of the well-dressed do-gooder.
Meanwhile the doctor in charge of the hospital was not only deaf to any helpful suggestions from a woman, he was downright belligerent.
If only she had known that drinking un-pasteurised milk was a fatal mistake for pregnant women.
But, no talking of such things was not deemed proper back in the day.
It reminds us of how far we've come but it also brought to mind the "Unfortunate Experiment" at our own National Women's Hospital as recently as the 1980s.
But mostly Boardwalk Empire is a soap opera and an entertainment.
At its heart is the prohibition fuelled crime spree that marked the era.
In many ways it's just like Border Patrol because we're with the smugglers, and against the G men.
I really want Nucky to get the shipment of booze across state lines, just as I want the Thai woman to get into Australia, even though it's clear she's not there just to buy a stuffed koala and visit Uluru.
Is it also somehow ironic that it's usually a second generation Australian smugly judging someone who simply wishes to become a first generation Australian?
While the Aussie iteration of the border based reality show seems mostly concerned with belligerently harassing foreigners, the local version takes a gentler path, but is no less engaging.
And yes, hypocrite that I am, I tend to take a slightly dimmer view of those trying to sneak into New Zealand, usually based on nothing more than the vibe of the individual and the sneaky way they struggle with what is no doubt their second or third language.
What is it about borders that turn us all into red necks?
The pain of passing through customs should make this show unwatchable to all but the saddest masochists, but somehow it draws me in. I have only one defence against it, which is to avoid any part of it.
If I get a slither of it I'm done and will have to stay to see if that Romanian couple really are credit card fraudsters, or to enjoy that Chinese lady getting a good telling off or to discover if that really is heroin sewn into the ears of Mickey Mouse.
Afterwards I feel used.
Like 15 minutes after a KFC binge, the saddest part is that I know I'll find myself back there again.
It might have to make the New Year resolution list however, as I'm worried about the effects of repeated exposure.
Just as KFC can harden the arteries, Border Patrol might just harden my heart.
I'd hate to end up like Richard Harrow (Jack Huston), the half-faced, one-eyed, WW1 veteran on Boardwalk Empire whose exposure to inhumanity has marked him terribly.
In the first series he offered Jimmy Darmody a book:
Richard Harrow: Hrrm. "You want this? My sister sends them to me cause I used to enjoy them.
Jimmy: You don't anymore?
Richard: "Hrrm. It occurred to me that the basis of fiction is that people have some sort of connection with each other. Hrrm. But they don't."
Harrow - a ball of menace and pity - is one of the many highlights on a show with a cast more stacked with more scene-stealers that anything since The Sopranos.