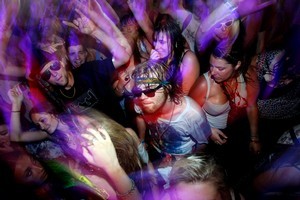 Organisers of the Big Day Out say they will discipline an employee after complaints he was over-zealous with a high-pressure hose - hurting people and targeting women in white tops.
The man was employed to spray water at the crowd in the event's "boiler room" to cool them down during the music festival.
But graphic designer Hayley O'Connor said she received bruises after being sprayed at close range by the high-pressure hose.
She and her friends were outraged by the behaviour.
"He sprayed my camera which was brand new," she said. "I asked him not to, and he said okay, but he did it again two minutes later.
"As well, the girls with white T-shirts, he would spray them on their tops and when they'd duck down, he'd spray their faces so they'd stand up again."
She emailed the organisers and had an apologetic response.
The promoter's response read: "You were not the only person who complained about this guy's behaviour in the boiler room. ... He will not be employed in the position again and he will also be reprimanded for the way he behaved."
Organisers did not return Herald on Sunday calls.