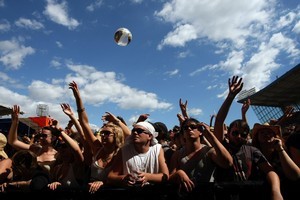 Fans heading to the Big Day Out in Auckland tomorrow can expect to sing along to their favourite songs in the rain.
WeatherWatch analyst Philip Duncan said weather conditions were expected to start off okay but slide downhill by night time.
He said that the 45,000 spectators expected to attend the 12-hour festival at Mt Smart Stadium may want to cross their fingers for last year's weather.
Showers were forecast for Big Day Out 2010, but failed to arrive and this year's set up was very similar.
The predicted high was 26degC in the shade but if the sun came out people may be feeling much hotter inside the stadium, Mr Duncan.
Humidity is also expected to rise, especially at night when it could reach over 90 percent.
This year's lineup includes Deftones, M.I.A, and LCD Soundsystem.
- NZPA
\NZP