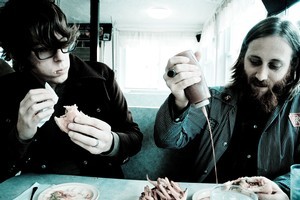 Along with Tool, Rammstein, and Iggy and the Stooges there are a number of returnees to the Big Day Out, but what about some of the newbies?
M.I.A.
The lippy British-Sri Lankan rapper and musician makes her first New Zealand appearance (she played the Australian BDO in 2006) off the back of her industrial, dubstep, and poppy third album, Maya.
Grinderman
Nick Cave returns to New Zealand, this time with his Bad Seeds side project, for some more raucous and writhing rock 'n' roll action following the recent release of Grinderman 2.
Crystal Castles
Noise of the extreme electronic variety is what this maniacal two-piece from Toronto, made up of producer Ethan Kath and singer Alice Glass, are all about.
Check out the challenging brilliance of Crystal Castles for a taster.
The Black Keys
The drum and guitar duo of Dan Auerbach and Patrick Carney, who play sloping blues rock, have never played a Big Day Out. But they picked a good time to make the trip following the release of Brothers, their sixth and best album yet.
Jim Jones Revue
The British garage rock band, whose sound takes in everything from 60s band the Sonics to Nick Cave's Birthday Party, have just released second album, Burning Your House Down.
Edward Sharpe and the Magnetic Zeroes
While not quite rivalling the Polyphonic Spree for numbers, this jaunty Californian mass hippie band are sure to get you whistling and smiling come the big day.
Andrew W.K.
This nutty New Yorker - best known for giving himself bleeding noses and doing things to a piano that should get him a few months behind bars - will get the good times rolling with songs like Party Hard.
CSS
The Brazilian party-starters featuring Lovefoxxx, one of the cutest and coolest front women in rock, have been quiet of late compared to the hype surrounding their debut, Cansei de Ser Sexy, in 2006. Not that that will matter on January 21.
Birds of Tokyo
On their latest self-titled album this Australian four-piece go for the grandeur and pomp of Muse with the rocky catchiness of something like our own Midnight Youth, who they have toured with across the Tasman.
The Bloody Beetroots Death Crew 77
The Italian mask-wearing gang of DJs, producers, and remixers will take over the Boiler Room with a live set of electro punk rave.
-TimeOut